Become A Level 2 Relationship Coach
The RC2- Professional Training Program Objective:
RC2 is designed to expand yourself as a relationship coach who can coach couples virtually.
This program is NOT for you if you:
Are not called to continue to train with The Relationship School®
Don't want to work with couples
Want this to be like therapy
The first requirement for RC2 Level is to have successfully graduated from RC1.
To aspire to this advanced level of certification you must be fully committed investing yourself to develop your capacity to deal with more challenging clients and issues. This training will build off RC1 and feel like a natural progression. You will be challenged beyond your current competencies and you might feel like a beginner again, especially when you get to couples or the 180. However, you will indeed graduate with a whole new level of confidence in the coaching seat.
To qualify and be accepted into the RC2 advanced Level you must apply as per the process provided below. Your RC1 graduation does qualify you, but to be accepted you must go through the application process.
We want students in this program who are committed to increasing their self-value/worth. Why? Because at the end of the day that's what you are teaching others to do. And if you can't value yourself, it's going to be hard to show someone else how to do it.
Be a certified RC1 (rare exceptions considered)
Have taken DPIR and/or been a TA for DPIR course
Pass a warrior exam where you share of your knowledge of the Interpersonal Intelligence

TM

Map as well as the principles and objectives of our work

Demonstrate your embodied knowledge that you know how to sit with people

Be willing to represent The Relationship School® in a strong way

Payment, hunger, and a desire to grow
The Relationship School RC2 Level Application.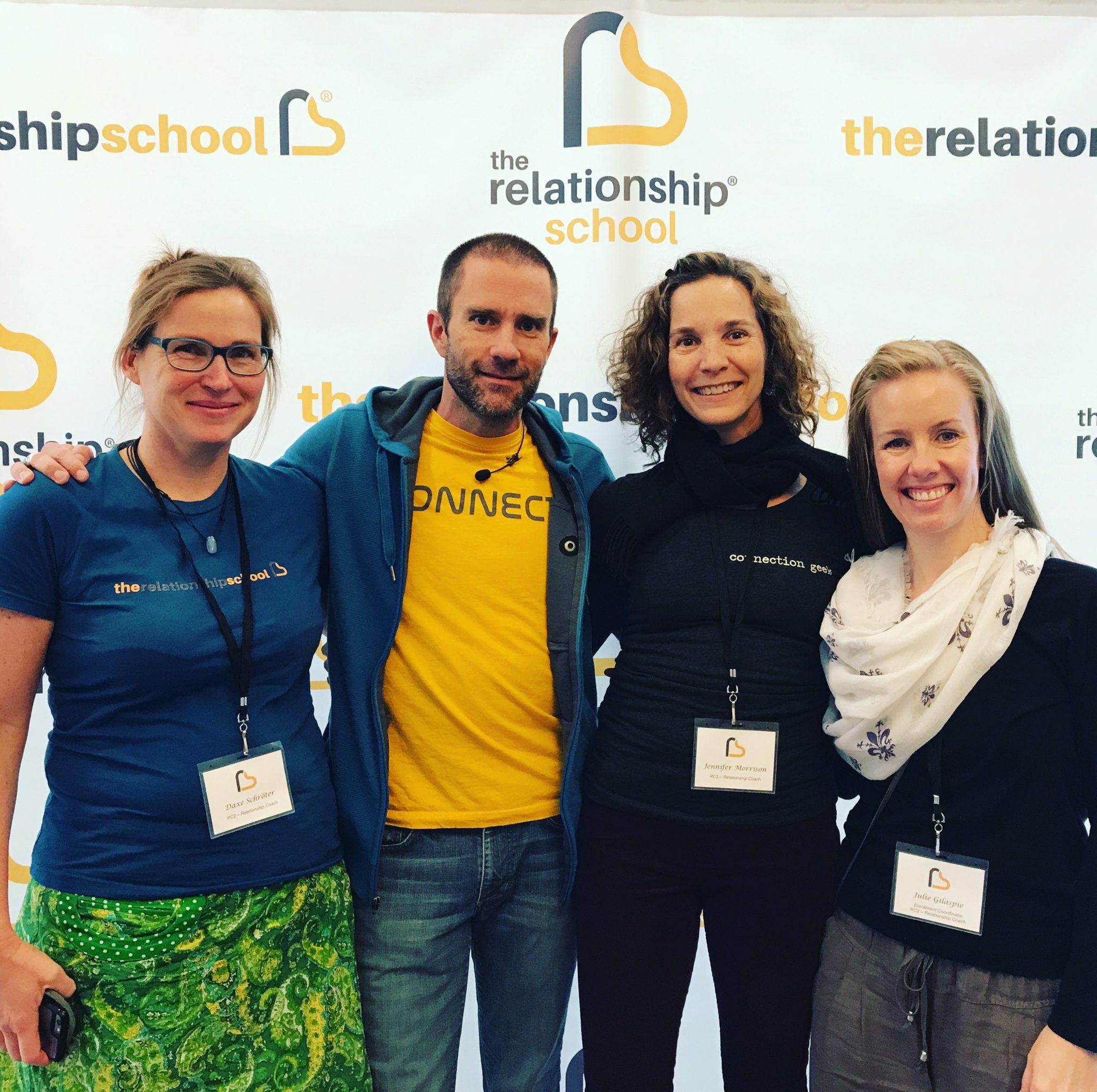 Record a 2-minute video as to why you want to keep sharpening your coaching chops. Write a one-page essay on why you want this and what you are hoping to get out of it and what you will offer the program. Send both to Jayson ([email protected]) by July 21st at midnight.
Once selected eligible students must formally confirm by August 1st, 2019 with a deposit of $1000. This deposit is non-refundable.
Duration: 1-year certification program (10-month course curriculum, August 2020 – May 2021)
Investment: $10,500
How to lock in your spot: Pay a non-refundable deposit of $1,000
Program Start Date: August 18, 2020
2020-2021 Apprentice (RC2) Schedule
We will meet 2x per month on Wednesdays from 10:30am MT-12:00pm MT. Classes will be led by Jayson and Level 3 students with some guest teaching done by Ellen. This goes on monthly until May of 2021.
Bonus classes: You also can jump in RC1, DPIR classes and live events to keep learning.
Semester 1
Virtual Classes 2020
August 19th
September 2nd
September 23rd
October 7th
October 28th
November 11th
November 25th
December 9th

Semester 2
Virtual Classes 2021
January 13th
February 3rd
February 17th
March 3rd
March 17th
April 14th
April 28th
May 12th
May 26th
The Relationship School RC2 Level Program.
We will meet 2x per month on Wednesdays from 10:30am MT-12:00pm MT. Classes will be led by Jayson and Level 3 students with some guest teaching done by Ellen. This goes on monthly until May 2021. 
Bonus classes: You also can jump in RC1, DPIR classes and live events to keep learning.
Additional supervision provided by RC3 students is at their fee outside of class time.
Minimum of 200 direct coaching hours with real clients

4 different couples throughout the year; must do a minimum of

6 sessions

with them  (you are welcome to do more, of course)

Some DPIR students if need be

Jayson and Ellen must observe at least 6-8 videos (or practice sessions) over the course of the training
Attend 3 live events in Boulder, CO

September 2020

January 2021

May 2021

Supervise RC1 students (see below)

Manage your assignment in the Smart Couple Facebook group

(supervise the RC1 students and track them in there for that month)
Bonus points and extra training
DPIR course (this is for those that are interested in teaching the DPIR course one day)

Attend the optional add-on event (Spring of 2021)

Attend an Accepted & Connected event

Attend or re-watch RC1 group calls, mostly as an observer

Watch extra RC1 coach/client videos to offer extra support for RC1 students
Teach at least 1 of the core skills at one of the 3 live events or Embracing Conflict event

Show up strong in Smart Couple Facebook group as a relationship coach

Demonstrate your ability to teach to an audience of up to 10 people

Present a 10-minute Relationship class to RC1s

Help facilitate the warrior exams at live events and/or virtually

Model and embody the warrior spirit of The Relationship School

®

leadership team

Note on teaching:

Until you are a Certified Teacher for Interpersonal Intelligence

TM

, you are not authorized to teach an Introduction C

ourse or Training, an RS® Intensive Training, an RS® Advanced Training Program, train or certify anyone to become an RS® Coach
Supervision
Supervise RC1 students in RC1 program (you are overseeing them)
Step into a mentor apprentice role as a supervisor/small group leader for RC1 students (for their entire 9-month training)

Observe and give feedback on RC1 coach/client videos (see section on that in RC1 handbook)

RC1 Check in calls – meet with your RC1s each month 1:1 for 20 minutes

Meet in your RC1 small group once per month for 1 hour

Observe and give feedback to a fellow RC2 student – 2 videos per semester (2 total)
See this google doc for all sample admin tasks
You must have a solid grasp
of the following topics:
4 Pillars

LUFU

14 Core Skills

3 Speaking Steps

Basic Brain Hand Model
Ready to learn how to help others and get paid for doing what you love?
Hurry and get your application in now!