Most of us know long-distance relationships can be INCREDIBLY difficult. But, did you know around one in ten marriages starts as a long-distance relationship? So there's hope!
Like most couples living in different places, Connor and Vienna are putting serious work into their relationship. They're on their way to marriage and, as professional mentors, they have many gems of wisdom to share. 
Have a listen. Find out what's working for them and see how their insight applies to you!
Here are a few of the highlights:

SHOWNOTES
Who are Connor Beaton and Vienna Pharaon? [7:00]

Connor and Vienna's love story [10:00]

This couple's tips for long-distance couples [20:00]

The importance of communication in long-distance relationships [23:00]

What does defensiveness say about a person's relationship priorities? [31:00]

Balancing autonomy and the desire to be together [39:00]

As relationship coaches, what advice do these two have for all couples? [51:00]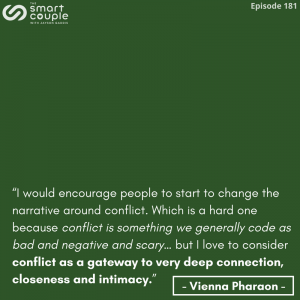 HELPFUL LINKS
GUEST BIO

Connor Beaton:
Connor Beaton is the Founder of ManTalks, an international organization focused on men's personal and professional development. He is a men's coach, keynote speaker and leads men's mastermind groups around the world. A former Market Manager for Apple, Connor learned about business from some of the best in business. He hosts The ManTalks Podcast, which is a top podcast focused on building better relationships, wealth, businesses and mindset. He has spoken on stages around North America with people like Gary Vaynerchuk, Lewis Howes and Danielle LaPorte. Connor is a contributing writer for Influencive and has been featured in Forbes, CBC, Huffington Post, The National Post and other major media outlets. To learn more about Connor, please visit his site here: 
www.mantalks.com
, and follow him on Instagram 
@ManTalks
.
Vienna Pharaon:
Vienna Pharaon is a licensed Marriage & Family Therapist in New York. She received her Master of Science in Marriage & Family Therapy from The Family Institute at Northwestern University, and was trained by some of the most renowned therapists in the country. She has a thriving private practice in Midtown, Manhattan where she works with couples and individuals all within the context of relationships. Vienna is an international speaker and has been featured in the likes of The Economist, Glamour Magazine, The Good Men Project, Motherly, Fatherly, The Chicago Tribune, Vogue Arabia, Vogue Mexico, and on Vice Media to name a few. To learn more about Vienna, please visit her site here: 
www.newyorkcouplescounseling.com
, and follow her on Instagram 
@mindfulmft
.