Thanks for requesting the relationship test!
Please check your inbox, we sent you the test for individuals and couples to your email a few minutes ago
ALSO, CHECK THIS OUT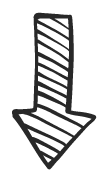 INDESTRUCTIBLE PARTNERSHIPS
How To Reach Win-Win
In Any Argument
A 30-Day Course
Regular price: $397
Only $197 TODAY
For a limited time, get the entire
30-day course for more than 50% off!
[wp-deadline id=1]




Get The # 1 Skill To Prevent
Break-Ups, Affairs & Divorce
It's shocking to me how many breakups and blowout could be avoided if people learned one thing.
The brain research is clear …
If you cannot, and do not, learn to regulate your emotions, shut down or reactivity during or after an argument, disagreement or fight, you create major health problems for yourself later in life. In fact, the Gottman's research shows that couples who understand how to navigate conflict live ten years longer than couples who don't!
Or check this quote out from the International Business Times
"Exposure to frequent conflicts between parents can impair brain development in children and place them at a greater risk of several mental health issues, researchers reveal."
It's just true now.
It's what a lot of psychologists thought, but now we have the facts.
Or how about this from Couples Attachment Expert Stan Tatkin,
"Insecurity and insecure attachment negatively affect brain performance. Development can be slowed down because the brain is using most of its resources to manage being in survival mode instead of being free to move toward evolution, growth, and complexity."
Yikes!
I wish there was a way to make conflict resolution a required part of the classroom in schools everywhere (I have some long-term visions on this, stay tuned). We'd thrive instead of survive…
But since it's not being taught in schools and we never learned it in schools, and because no couple can avoid conflict successfully over time, I invite you to learn with me, right here, right now.
Come to "relationship school" now and learn the most vital skill that all successful couples understand:
Win-Win Conflict and Communication
If I had to choose only one skill, out of the countless I know, to help couples make it long term "learning how to fight well" is the one skill I'd choose.
In my 2 decades of experience with families and couples, this was the missing skill I observed every single time because it's what had families and parents dragging their kids into forced treatment where I worked back in the day. The unwillingness or inability to do conflict well was the determining failure factor of every single family I knew. Above addiction, above mental illness, and far above anything else.
Later on in my career, same thing… the inability or unwillingness to do conflict was the only reason individuals and couples came in to see me when I was a licensed psychotherapist for almost ten years.
So…
Don't be a couple who is crippled when it comes to having a thriving partnership.
Don't be an individual who is unprepared when you get in your next relationship.
Don't let your inability or unwillingness ruin your awesome partnership.
Don't let your fight/flight/freeze response drive your partner away…
You can do this.
I applaud your efforts for making it this far in your life and this far to reach this page. It means you are pretty damn serious about learning this one for good.
Because this is like riding a bike…
…once you get it, you've got it for the rest of your life.
And, since the bumps in the road will always be there in your interpersonal relationships, you can rest assured knowing you have the power tools to deal with any challenge that comes into your relationship life.
This course goes beyond arguments and deals with the heart of our unrest with the tension between you and others.
If you want to not only learn how to achieve win-win conflict and communication all the time, but also how to be a resilient warrior when you have ANY interpersonal challenge with family, friends or co-workers, then this course holds the keys to your new kingdom to a much more empowered future.
See you on the other side!
Big respect,
Jayson
Your Guide For This 30 Day Intensive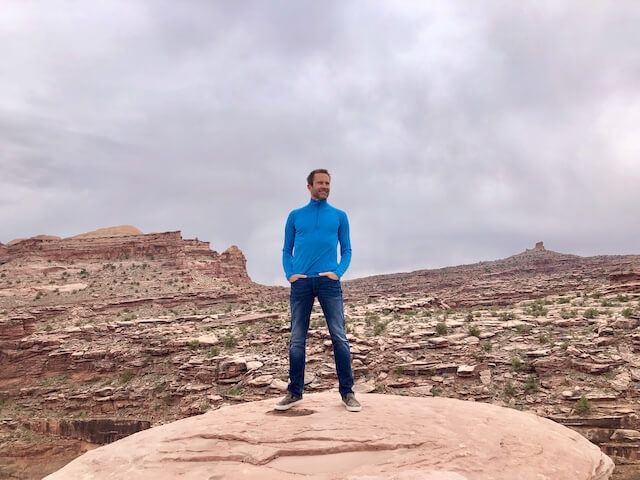 Jayson Gaddis's favorite thing to do is help people resolve conflict. He's spent over the past 2 decades in a variety of settings studying human behavior and why people struggle to understand each other. His own life has been full of endless failures and victories so he wants to save you time, money, and energy by dissolving the core conflicts so you can love bigger. He teaches virtual relationship empowerment classes to students around the globe. And in this class he's going to teach you the #1 foundational skill you must learn in order to have a successful long-term partnership.
Tired Of Feeling Disconnected & Hurt?
Then stop running away from the very thing that will give you a deeper, more fulfilling relationship!
It's time to learn how to argue like a love-warrior!
No more hurt, blame, or freak outs to get what you want.
You can learn a simple set of skills that will forever change the way you relate to others.
Check out what Amanda had to say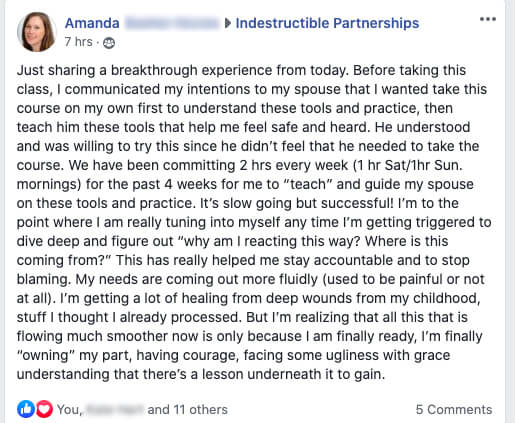 Regular price: $397
Only $197 TODAY
For a limited time, get the entire
30-day course for more than 50% off!
[wp-deadline id=2]




Real Results from Real Students
We loved the conflict course, despite bringing more conflict at the beginning of the course, as we worked our way through the course it began to bring so much in depth clarity about why we were fighting, how we could differently interact with each other during conflict and effectively take responsibility. Each week there were different results and by the end we noticed fully the results in how our conflicts began to shorten in time, when we began using the new language effectively, we both we saying more how we felt understood and seen which enabled us to build more intimacy in our relationship. Tomas said he felt more trust and Melina felt more secure. It has opened up new possibilities to us where we don't feel as helpless during conflict but rather now we have options and tools to use to help us. It continues to be an ongoing practice which we are realising the need for community for support and accountability which will be our next step to ensure we remain on the path of using conflict to face our own wounds and see our partner as allies during this time. Thank you Jayson – this course is truly eye and heart opening, your straight forward, sometimes light hearted approach made it easy to digest. We are both deeply grateful.
I just wanted to truly thank you Jayson for being my life raft. You continue to guide me as I discover who I am and learn what I want and do not want in relationships as I move forward. I truly believe that I could never have gotten to this place without you!!!!!!!
Jayson's course was transformational! In years of radical personal growth, I haven't found anything that comes even close to his material, in terms of practicality, mindset, clear usable examples, hands on coaching and real life daily application! He will firmly help you identify what you are wanting, help you get clear on it, and move toward it. Be ready and willing to buckle yourself in for this ride. You are worth it. If you don't believe that, you really need what he has to offer. Be prepared to be "met" and "seen" in a loving way you have never experienced before. He gets you. Thank you again. I'm so grateful for you!
In This 30-Day Course You Will Learn:
How to identify the core issue between you and your partner
The only context that creates win-win arguments
Partner exercises that will help you get serious practice and community throughout the course
How to create a secure container so you can handle any fight
The 180 Clarity To Freedom Process that dissolves any charges
How to communicate effectively so you can get exactly what you want
Real Results from Real Students
Thank you for bringing this opportunity to me at this point in my live to improve all my relationships but especially to see that what I want is achievable and I am worthy of it—with or without my current partner.
This course challenged me. A lot. I went in hoping for strategies on how to deal with my partner and came out with strategies for how to deal with myself. The tools I learned steered me out of the "he said/she said" mental loops and helped me get unstuck from some of my old wounds and patterns so I can start to tap into a deeper foundation of joy and power.
I love the courageous community and the friendships that have emerged out of the intentional space that Jayson opened for the group. His guidance has been invaluable. I'm so grateful!
 I feel very empowered and resourced to "do life" differently, in a way that I will be more true to myself and have more fulfilling relationships with others.
Participating in the Conflict course with Jayson was like having a bunch of switches turned on in my thinking and way of seeing around relationships and my own behavior! But rather than being too heady or conceptual, these "aha" moments of discovery and understanding are actual tools I have already been able to integrate – ones I can use everyday, in every relationship, and for the rest of my life. By lighting up some dark corners, I feel clearer in what I need to work on, and how, and and a door has opened that lets me feel closer to my partner, as well as my friends and family. Thanks, Jayson! Great stuff!
Course Contents & Modules:
Module 1
Willing–The Core Tenets and Agreements of An Indestructible Partnership.
In this first module, you will learn the proper view and framework to create a secure, successful partnership where you can safely explore learning how to do argue well. We cover the core tenets and also the 10 agreements of an Indestructible Partnership. We'll also get into why we argue, what we argue about, and begin to lay the groundwork to achieve win-win.
Module 2
Presence–Why The Soft Skills Are So Healing To Learn & How We Can Literally Re-wire Our Brains by Getting This!
To re-wire your brain, you will need to learn how to "be with" your experience. This helps you "be with" your partner during necessary negotiations and arguing. In this module you are going to learn the fundamentals of any good listener. Reflective listening, mirroring, getting their world, validation and much more.
Module 3
Able–The Personal Operating System Alone Has The Power To Change How You Communicate Forever. We'll Tackle This & More
The POS (Personal Operating System) is a key "hard skill" to learn that will help not only your personal relationships, but it has the power to transform your business relationships and double your impact when it comes to persuasion. Sometimes we need to "sell" our brilliance to our clueless partner. In this module you'll not only learn how to do that, but you will gain greater and greater understanding of how to communicate in such a way that has both of you feeling seen, supported, and understood.
Module 4
Able–The 180 Clarity To Freedom Process
As I said before, the "180" is by far the most powerful tool I've ever experienced when it comes to personal growth and relationship development. You will learn exactly how to clear the core argument in your relationship. Not only does this bring relief to your relationship, you can now spend your energy the next most important task in your lives or relationship.
Module 5
The Clarity To Freedom Process & Sample Win-Win Demos.
In our final class we take another step with the 180 process as you feel inspired to tackle new challenges in yourself and in your relationship. There's no greater way to bring more clarity and freedom to your relationship than to add this beast of a tool to your arguing and negotiating with others. Plus, we'll do a live demo to make sure you know what I'm talking about here.
This tool (and the others) will be yours for life and you'll no longer be wasting time and energy on fighting over dumb stuff, you'll be looking forward to arguing because you now know it's the necessary step to help you get what you most want in your life.
Who This Course Is NOT For?
Blamers
We all blame, but if you feel attached to your partner being "wrong" then I can't help you. If you are open to seeing your part, and working on it, then we're in business.
Complainers
If you struggle like the rest of us in partnership, no problem. But if you complain and whine about it, without finding the very best solutions to help you take full responsibility, we won't get along very well.
Band Aid Seekers
If you want the pain to just magically disappear, or you want someone to make it all go away with no effort on your part, I can't help. But if you want to "earn" a great relationship, let's do this.
Singles
With this class you are not only more attractive to your future mate, you are able and willing to handle any challenge that comes your way. So come prepare yourself for the dream relationship.
Dating Couples
You're not yet married, and may never be, but you get that arguing well is crucial to your relationship success and fulfillment, no matter how long you stay with this person.
Married Couples
You completely understand by now that if you want to go the distance, you MUST get in the driver's seat of your reactivity or your marriage won't last, period. Get the win-win program down for life.
Get The Keys To Win-Win Fighting & Create Your Indestructible Partnership
Without these tools your relationship is doomed for struggle, hurt, and challenge. Why wait. Get your foundation set in place forever so when things inevitably get hard and challenge comes, you will meet and clear the charges as they arise, and get empowered and stronger through whatever comes your way.
Regular price: $397
Only $197 TODAY
For a limited time, get the entire
30-day course for more than 50% off!
[wp-deadline id=3]




Please note
This is a recorded class, not a live one.
Even though there won't be live calls, you will get:
12 hours of content
Q and A
Lectures
You can't go wrong with this incredible guarantee!
I'm so absolutely sure that this 30-day course will help your partnership, that I'm offering a risk free 30-day money back guarantee. If for whatever reason this course does not satisfy you in any way, simply send us an email within 30 days from your purchase and we'll refund you on one condition. Click here to read my Refund Policy. I know for certain you have never tried anything like this. You have nothing to lose!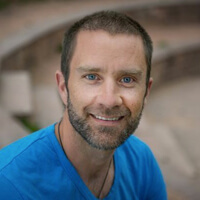 Got a Question? Check out our Frequently Asked Questions here.
Is this in person and do I need to live in Colorado?
No. This is a 100% virtual training. You can live anywhere in the world to make this happen. Virtual settings are perfect for self-study from home. If you choose to continue to study and apprentice with Jayson, you will need to make a trip out in the future for another apprentice course, but that is totally optional.
Can I access this training from my smart phone?
Yes. If you are like me, your phone goes with you everywhere and so you have access to this course at the tip of your fingers. You can log in to the members area and listen or watch previous modules.
When this training is over, will I have access to the course materials and the people in the training?
Yes. You will have access to the course for a minimum of 1 year and likely longer. You will also walk away with access to the community via a private FB group.
Cancellation & Refund Policy
At The Relationship School®, we offer a Commitment AND Refund Policy.
This means once you've made your purchase, you will have 30 full days to ask for a refund. Within this period, your investment, whether purchase or deposit, is 100% refundable.
If we do not receive your written declination at [email protected] within this 30 day period, on the 30th day we will consider your commitment confirmed, and your investment becomes non-refundable.
We believe in the power of commitment, especially those commitments made to oneself.