relationship coach certification
Become the kind of relationship coach who within the first session, gets right to the root of the client's issue and helps them start dismantling it through high quality challenge and support.
We're taking applications for the next…
Listen to Jayson interview 3 Relationship Coaches on what they learned in the RC1 training:
Announcement:

Apply Now Before Spaces get Filled, We Have Limited Seats
You are a different human being.
You're the kind of person who naturally wants to help others.
You've been that way your entire life. It's one of the wonderful things that makes you unique.
When someone's in trouble, you feel a pull to help, even as onlookers walk by.
When you were a kid, you were the one in the family who tracked the upset, the pain, the confusion and tried to make it better.
I used to be a lot like you, always tuned into other people's emotions.. As a kid I tracked the emotional and relational dynamics in my family, and with my friends on the playground.
As a teen, while other students were proving themselves through sports and good grades, I was trying to help people who were in pain.
As I got lost into drugs and alcohol in college, this part of me never went away. Every woman I dated, I tried to rescue. I always attracted insecure women that needed help. That way, I could avoid intimacy and revealing any of my own pain.
In my 20's I was pretty lost. But my helper was always there.
Every job I took, I was helping someone. I was a ski coach, an outward bound instructor, and a wilderness therapy guide.
I didn't know it at the time, but I was hiding.
That's right. I used my helping to hide. I also found jobs where I could get some vicarious healing. When I got off work, I'd go drink. I didn't know it at the time, but I was definitely avoiding something…
Regardless, I was a natural helper and I was good at it.
One of the most intense jobs was working with troubled adolescent boys in the wilderness. I'd work 8 days on, 8 days off. Man was it hard work.
The more I worked there, the more intense it got. (More stories on this later).
But something also started to be revealed.
A kid said to me once, "I'm thinking of killing myself."
I didn't know what to say or do. I felt helpless.
Another time, a boy said to me. "I lost my Dad in a car accident."
I didn't know what to do… I felt helpless
I also made some big mistakes and gave lame advice. For example, one kid got so angry he started ripping apart a tree. It was so intense. What was I supposed to do?
I froze and did nothing.
When I came around, I gave him advice instead of trying to understand him.
The more real and intense the issues became, the less I felt like I could help.
Several months into my wilderness therapy job, I had a big "ah ha" moment. I had reached a "ceiling" on how effective I was at helping someone, and it was sobering. Humbling.
I felt inadequate. I felt ashamed and embarrassed that I couldn't help more. I just didn't know what to do.
Do you ever feel this way?
Your natural helping skills are great, but at a certain point, with certain issues, your skills fall short. 
Or, maybe, you have real professional training like me, but you continue to help people in ways that are not helping them and depleting you?
Maybe you keep rescuing someone that needs to fall on their face. Or maybe, you keep enabling that family member because you get to feel valued when you do that.
Because my own relationship life was falling apart and because I had reached a ceiling on how to help others, I finally decided I needed more formal training. So, I went and got a Master's Degree in Psychology.
I wanted to confidently say that I could help anyone (this bit me in the ass later on…).
Since that time over 20 years ago, I have dedicated my life to studying human beings. I found the best teachers. I studied with masters. Then I kept studying with masters. When I couldn't study with them, I read them, devoured their material and began to incorporate their teachings into my work with clients.
I took the formal academic approach where I studied at Naropa and got my Master's Degree in Transpersonal Psychology & Counseling. While getting my master's degree, I also did a 3-year training to become a Gestalt therapist. I also worked as a psychiatric crisis worker at our local Mental Health Center.
I spent tens of thousands of dollars on seminars and programs.
I started meditating every day, becoming a Vajrayana Buddhist practitioner so I could study my mind and internal experience. Then I became a licensed psychotherapist and built my own very successful private practice in Boulder, Colorado.
After years in private practice, I was getting fed up with how ineffective I was.
The same couples would show up, week after week, with no improvement.
How could that be possible?
It took me a few years to really figure it out, but finally, I got it…
I was not effective as a therapist because I was working inside of a long-term victim model that I no longer wanted to be a part of.
Hear me out — the training I got as a therapist was invaluable. Yet the entire model was based on a triangle: Victim, Persecutor, Rescuer. The therapist is the rescuer, the client is the victim, and their parents or someone that hurt them was the persecutor.
The triangle model has its place. Yet, I was done with it.
Which is why I embraced coaching. I wanted my clients to get results. I didn't want to work with people who were not willing to move beyond their story, their past, and get empowered. I felt so damn ineffective with people deeply entrenched in their dramas. (Also "trauma therapy" requires very specific training that I had received, but no longer wanted to use. By the way, if you identify as having big trauma, a trauma therapist is the place to go!).
So, I went and trained with a coach, a global leader in human behavior by the name of Dr. John Demartini. John is far from a therapist. He's a businessman, a speaker, and a polymath.
John taught me an even more efficient way to get results with clients. And, the more I tried it, the more it began to upset the therapy clients I was working with and the more it brought me coaching clients I wanted.
My Master's Degree in Psychology taught me about the psychology of human beings. Yet it didn't teach me much about relationships and how to work through my past hurts without latching a story onto my Mom or my Dad (In fact, my therapy training reinforced my untrue story that my Dad had emotionally abandoned me).
For these reasons, I continued to seek teachers and mentors that use non-therapy tools. I studied with anyone I could, went to workshops, and read everything I could on relationships. I was also blazing a trail from my own experience with my soon-to-be wife.
I also wanted to raise my rates and get paid more for the results-based work I was doing with people.
It was time to transition out of being a therapist and into being a relationship coach.
What I needed was a clear map that laid out how relationships work. I knew that once I had this map, I could quickly and effectively help my clients.
During this realization, I closed my doors as a therapist, let go of all of my "therapy" clients and went all-in on developing this path to relationships and began to build my coaching practice.
Soon after becoming a coach, I developed my own coaching techniques (that are not therapy) and started leading longer groups and eventually started The Relationship School®.
This coaching method is extremely effective with high functioning people who want better relationships.
I call this innovative coaching method…
 Present Centered Relationship Coaching™
Present Centered Relationship Coaching™ is a culmination of everything I've learned. It is informed by:
Integral Theory
Vajrayana Buddhism
Gestalt therapy
Transpersonal psychology
Depth psychology
Humanistic psychology
Developmental psychology
Systems Theory
Plant Medicine, and other psychedelic experiences
Integral Theory
Co-Active Coaching
The Human Behavior work of Dr. John Demartini
The Psychoneuroendocrinology from Gabor Mate
Zig Ziglar, Eben Pagan, Dale Carnegie, R. Cialdini (communication, sales, persuasion, and influence)
Circling
Adult Attachment theory & Stan Tatkin
Interpersonal Neurobiology & Polyvagal theory (Influenced by Dan Siegel, Gabor Mate, Steven Porges)
… plus my own experience in the trenches in my own marriage and family as well as with thousands of clients and students
Oof! It was a LOT of studying. But, after years of work, I finally codified the map that I had been missing:
Present Centered Relationship Coaching™  helps coaches quickly and effectively:
Get clear with their client on what rupture or issue they want to address
Identify the root cause of the rupture or issue
Address the root cause
… all within the first 60-minute session!
When I was a therapist, I couldn't get this kind of result even after MONTHS of sessions!
Yes, Present Centered Relationship Coaching works even if the client:
Has been going to therapy and coaching for years without change
Has a traumatic childhood experience
Has issues with authority and seeking help
Has low self-esteem
Fights and blames anyone who tries to help them
Once I started coaching clients using Present Centered Relationship Coaching Method, I saw rapid behavior change.
Finally I was making a real, big, measurable difference.
This map allowed me to build my reputation as someone who can really help others, which led to a very busy coaching practice.
Learn Present Centered Relationship Coaching™️
Registration is: Open!
? 100% Money Back Guarantee.
Some restrictions apply. Please see our
Refund Policy
Registration for RC1 closes in...
If YOU can get a quick result for a client, they'll continue working with you and refer their friends
We live in an era of getting results quickly, and Present Centered Relationship Coaching™️ allows trained coaches to get this result as quickly and effectively as possible. Whenever I cut through the fluff and laser-focused directly on the rupture a client had, they would feel a sense of clarity and ownership that motivated them to take action.
As my clients lives improved, so did the quantity and quality of referrals I received.
Back then, I didn't even have to do any marketing because of the network effect of goodwill and word-of-mouth.
Stoked about this new-found map, I set out to build The Relationship School® to help coaches around the globe impact their local community and build a great lifestyle business that gave them flexibility and a sense of meaning.
Since 2014, I've worked tirelessly on improving Present Centered Relationship Coaching™️ and building the Relationship Coach (RC) Certification Program.
Today, the Relationship School's RC program is second-to-none. We stand alone in this program because we have the only true map that clearly defines how relationships work.
By becoming a Relationship Coach at Relationship School, you will:
Be trained on Present Centered Relationship Coaching™️, the only map that shows how relationships really work
Get the bleeding edge education on relationship dynamics from Jayson Gaddis, founder of Relationship School (so much has been discovered in the last 5 years… it's an emerging science!)
Learn how to attract coaching clients who are ready to do the work and have the money to pay you (no more tire kickers!)
Identify your own coaching blindspots and get support on how to overcome them
Learn why you attract clients that push your buttons and what to do about it (hint: it's got more to do with you than them!)
The truth about liability insurance and what you need to cover your ass
Get experience as a Teaching Assistant inside the Deep Psychology of Intimate Relationship program
Learn the 5 building blocks of effective coaching sessions (and you'll practice them dozens of times!)
Find out the 3 growth-stopping coaching session bumbles most coaches make (and how to avoid them systematically)
Understand what the role of a coach is and how to present yourself so you're welcomed into a client's heart and mind
Discover how to self-regulate in order to provide more space for your clients to open and share
… and a lot more.
Here's what it takes to become an effective, efficient and successful Relationship Coach:
I'm sure you've seen the ads before…
"Become a coach in 6 weeks!"
"Stop dreaming and start being the relationship coach you've always wanted to be! 3-day seminar teaches you all you need to know!"
"For just $97, you'll learn how to become a world-class 6-figure coach, guaranteed!"
Ugh. They're all over my Instagram feed.
My beef with these companies and coaching programs is that they simply don't provide enough education, community accountability, or practice.
If you've attempted to master anything in your life, be it music or photography or interior design or mathematics, you know you can't become world-class in a weekend, right?
And probably not in six weeks either, right?
Right.
That's why I built the Relationship Certification Level 1 (RC1) program to be a 9-month curriculum with three live events, 18 modules of training, plus real coaching sessions with real people as your clients.
The structure for your 9 months are our Building Blocks. These provide the framework of all 50 skills you will learn in the RC1 program:
Five Building Blocks of Present Centered™ Relationship Coaching:
Foundation/Context setting
Presence/Support
Presence/Challenge
Presence/Deepening
Inner Work
Notice how much we focus on developing your presence. It's everything! And, also take note of the section on challenge. You MUST learn how to challenge your clients. Also, take note of the "inner work" section. You don't work on your own stuff, you'll continually block your clients from working on theirs.
Here's a taste of what's covered in the RC1 9-month certification program:
18 training video lessons covering topics such as:
How to start and end coaching sessions and what to do when clients are complete or want to continue.
How to develop presence and have your clients be present during a coaching session
Establishing clear boundaries inside coaching sessions
How to listen effectively so you can understand what the client cares about, including their values and priorities
Taking personal responsibility in a way that makes space for the client to open up and share
How to deepen quickly and effectively, getting to the core rupture, even on the first coaching session
Training on how to redirect clients back to the task at hand
The magic of agendas in coaching sessions and how to create one that will facilitate more effective support
Helping a client "be with" their emotions, their pain, their joy, and any feeling that comes up.
Ways to challenge a client to get them to start changing their behavior and thought patterns
Being able to receive feedback from clients and RC students without defending or justifying
How you can track your client's success over time, to ensure they're making progress (which gets you more referrals)
… and so much more
At least 18 group supervision calls where you and the other RC1's get direct supervision from Jayson and his Assistant Course Leader (also a certified Relationship Coach) talk about the training, work through questions and support one another
15 unique homework assignments to help you internalize the trainings so they become part of your DNA
3 live, in-person events in Boulder, Colorado

The Opening Event kickstarts the epic 9-month program off. You'll learn directly from Jayson at this event, plus meet the other RC1's who are on the same path as you. Long-term supportive friendships have been born from this event!
The Mid-way Event is a check-in to keep you connected to the group and gives you real-world experience of coaching others.
Graduation is a tear-filled, open-hearted training and ceremony where you'll be awarded your certification and be prepared to take your education to individuals in need of coaching

Encouragement to have at least 18 practice calls with the RC1's in your group, so you can put your learning into practice
Instruction to have 17 peer-to-peer coaching calls and upload them for the course leaders to review and provide feedback on
Two personal reflection papers based on you reading two books that Jayson has found to be foundational and supportive of the Coaching work (don't worry, this isn't an academic paper; it's a reflection of what you got from the two books)
Access to the private Facebook community of your class's RC1 students, RC2 supervisors, and Jayson
Assigned real coaching clients, plus simple copy-and-paste template emails to book your coaching call with them
Guidelines and boundaries for referring clients with trauma or extreme states (such as sexual abuse, addiction, suicidality, etc.)
Plus the support of Jayson, your RC class and the supervising RC2's all helping you grow
Dates for the RC1 live events and course
Kickoff: September 16th-19th, 2020
Mid-year Event: January 21st-23rd, 2021
Graduation: May 19th-22nd, 2021
You will have Virtual Classes generally every other Tuesday at 12:30pm MT. These classes are taught by Jayson and supported by other Certified RS Relationship Coaches.
These required calls will all happen through Zoom. We will send a link to you prior to each call, and it will remain the same throughout the course.
Fall – Virtual Classes
August 18
September 1
September 29
October 13
November 10
November 24
December 8
Spring – Virtual Classes
January 5
January 19
February 2
February 16
March 2
March 16
April 13
April 27
May 11
May 25
Meet the Assistant Course Lead (ACL) for your RC1 course:
Here is what a few of our coaches have said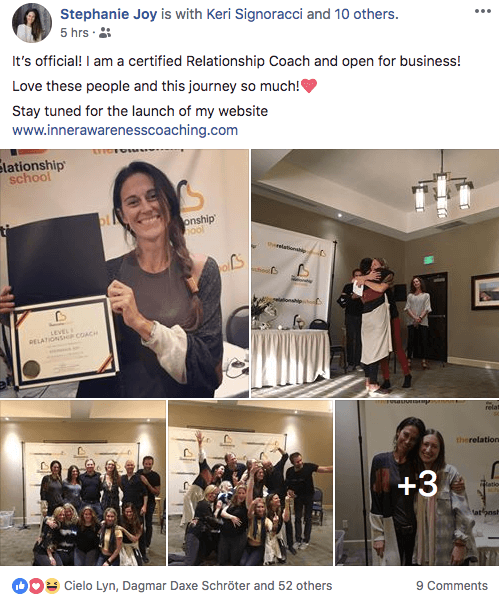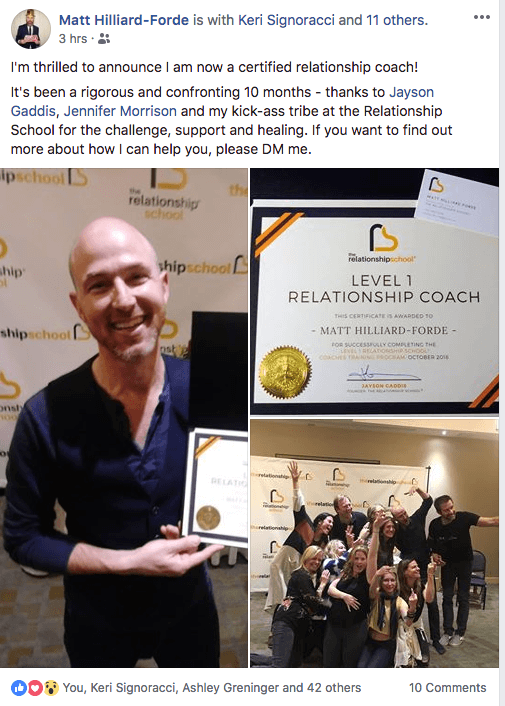 Grow your self-confidence by strengthening your natural gifts
You were born with the gift of being a helper. That's why you're still reading this… because you know you're meant for a life of service to others.
The magic thing about becoming a Certified Relationship Coach is that when you spend time honing your natural gifts, you will feel an increased sense of self-worth, which increases your confidence and esteem.
It is your dedication to improving yourself and your ability to help others that changes the way you feel about yourself.
Ask any RC graduate and they'll tell you they walk a little taller knowing that they are clear about their purpose in life, and knowing that they are living that purpose day-in and day-out.
You're also going to grow in your self-confidence when you surround yourself with other RC's who are there to see you for who you really are and love you. The vibe of the RC groups is out of this world… so much vulnerability and love.
Your friends and family are going to notice a huge shift in you as you move through the course. They'll say "WTF happened to her/him/them? They're so solid!"
And when you hang your certification on your wall, you'll be reminded of your dedication and the monumental accomplishment of completing the RC1 program.
The world needs you to step up and become an effective, efficient relationship coach. Will you heed their calling?
The Relationship School® is enrolling new students into the RC1 program, which starts on TBA.
We're taking applications for the next...
Application Ends on Tuesday, August 11 at Noon MT.
Not everyone who applies is approved to join RC1
After seven enrollment periods, we've learned that it takes more than just an interested person to become an effective relationship coach. That's why we have this application process. Here's how it works…
Step 1: Apply to talk to a Student Growth Liaison
The Student Growth Liaisons (SGLs) are RC1 grads who have help us screen prospective students to make sure they feel clear and confident in their decision, plus are a good fit for the program.
Step 2: Meet with the Student Growth Liaison
Show up on time, on video for your call with your SGL. During that call, you'll be able to ask any questions about the path to becoming a certified Relationship Coach, what their experience was like, what content is covered, how the live events are, or whatever else comes to mind. They're an open book!
The SGL will, in turn, ask you questions about your life vision and to make sure the RC1 program is right for you. If everything looks good to them, you'll move forward to interview directly with Jayson. Once it is determined that you are a good fit, we'll help you work out your payment plan that works best for your unique situation. 
Step 3: Play all-out and grow
Once you're enrolled in the program, class will kick off, and twice-monthly you'll meet with your group to discuss the training. You'll be expected to show up and play all-out, which means finding your edge and pushing yourself to be present and engaged.
Prerequisites for Becoming a RC1
1. You have taken the 9-month Deep Psychology of Intimate Relationship course (DPIR)
– OR –
2. You are an experienced coach, therapist, or healing arts practitioner already – AND – You are hungry to serve others and get more skilled at doing so (additional coursework required)
– OR –
3. You have taken the Relationship as a Path Foundations 8-week course – AND – You have demonstrated your knowledge and proficiency with the tools (additional coursework required)
If becoming a Certified Relationship Coach, armed with Present Centered™ Coaching Model and having a group of dedicated students and experienced coaches support you in increasing your effectiveness gets you excited, apply right now without risk
Check out what some of our RC1 grads have had to say about the program:
Check out what Nikki said about why she chose coaching over therapy:
A traumatic divorce lead Tonya to a place of personal empowerment:
Bryce from Salt Lake was already a coach and wanted to expand into relationship coaching. Listen to what he and his wife are doing…
Aley felt supported by the team as she progressed through her journey:
Warren from Austin, Texas went from homeless addict to successful, well-paid Relationship Coach:
Leahnora from Oakland, California left her career as an environmental scientist to become a relationship coach. She's a stay-at-home mom who is impacting lives and raising her family on her terms. She and her mom are closer, and she's feeling "on the same" team with her husband.
Alright, last thing… this is a weird one, but stay with me, OK?
Robots are coming.
You know what I mean?
We're seeing so many jobs get taken by robots and automation right now and it's a MAJOR crisis the news isn't giving enough air time.
In a few years, we'll see self-driving cars take over the highways, kicking tenured truck drivers (the single biggest employer in over 25 US states!) to the curb. And all those Lyft and Uber drivers will be witnessing the same fate.
Maybe not next month, maybe not next year, but it's happening.
In our lifetime, we're going to see automation take over jobs, leaving people to "figure it out" on their own.
… this is GOOD NEWS if you're thinking about becoming a relationship coach. Here's why:
First, those soon-to-be unemployed folks are going to need support. They're going to want to grow in their relationships and they need a guide who can help them. By you becoming a certified Relationship Coach, you'll be able to help these people who need you.
Second, robots won't be able to take over the job of a Relationship Coach for a long, long time. Human connection can't be automated.
I'm not saying that Relationship Coaching is the only robot-proof job available, but with your natural gifts, becoming a certified Relationship Coach means you'll be relevant immediately after you graduate, and far into the future.
How do our coaches do after they graduate? Do they see real clients and make money?
We recently reached out to our TRS Relationship coaches to get an idea of the impact they're having out in the world. We got responses from 11 RC1 grads, 3 of which are currently coaching full-time, 7 coaching part-time, and 1 not coaching at all. The coaches are seeing an average of 1-15 clients a week at an average of $150-200/hour, bringing in anywhere from $150-800/week or $300-600/month, to upwards of $75,000 a year. Most of the coaches have served about 10-20 clients so far, with 2 or our coaches at over 100 and 200+ clients reached so far. Overall, the coaches expressed that they experience all of the relationships in their life (from coworkers to friends to relatives to strangers) all being positively impacted as a result of their TRS education, and a few coaches are offering community events and group support. There's a unanimous desire from all of our coaches to expand their business and reach more people and we hope to help facilitate this potential in the near future.
Feeling hesitant to apply? Listen to what Nikki said about the financial investment of being a Relationship Coach. 

Feeling hesitant to apply? Listen to what Nikki said about the financial investment of being a Relationship Coach.