The feeling of being lost and purposeless in life has a big impact on our relationships.  Men and women have a deep need to not only connect with each other, but connect to a bigger meaning in their life.
Satyen Raja is an expert at helping us develop the higher levels of purpose & evolution in our lives – and this affects everything from our work, our relationships with our partners & kids, our fitness and our level of satisfaction with our lives.
His '4 freedoms' is an extremely useful exercise to helping you keep your eye on your highest self – especially if we're suffering in feeling lost and without direction.
This episode, largely geared toward the men, will challenge you and give you a toolkit that dramatically increase your relationship and life satisfaction if you apply them – listen carefully for the exercises and grab a notebook, because these ones are important.
Here are a few of the highlights:
SHOWNOTES
How to create a relationship where both partners are learning from and inspiring one another [13:00]

Satyen's number one thing he's learned as a man in relationship to his wife [15:00]

Men & women triggering each other & how to deal with both [17:00]
How men can listen better in conflict without being a 'doormat' [18:00]
A martial arts technique to calm down when you're triggered [19:00]
The "4 freedoms"  for accelerated evolution and higher purpose [22:00]
A 10min exercise men can do to bring more presence to their partner [30:00]
How to move toward more meaning in life [43:00]
Satyen's "Accelerated Evolution" trauma-release technique [49:00]
Satyen's advice for men who are stuck or lost in life  [61:00]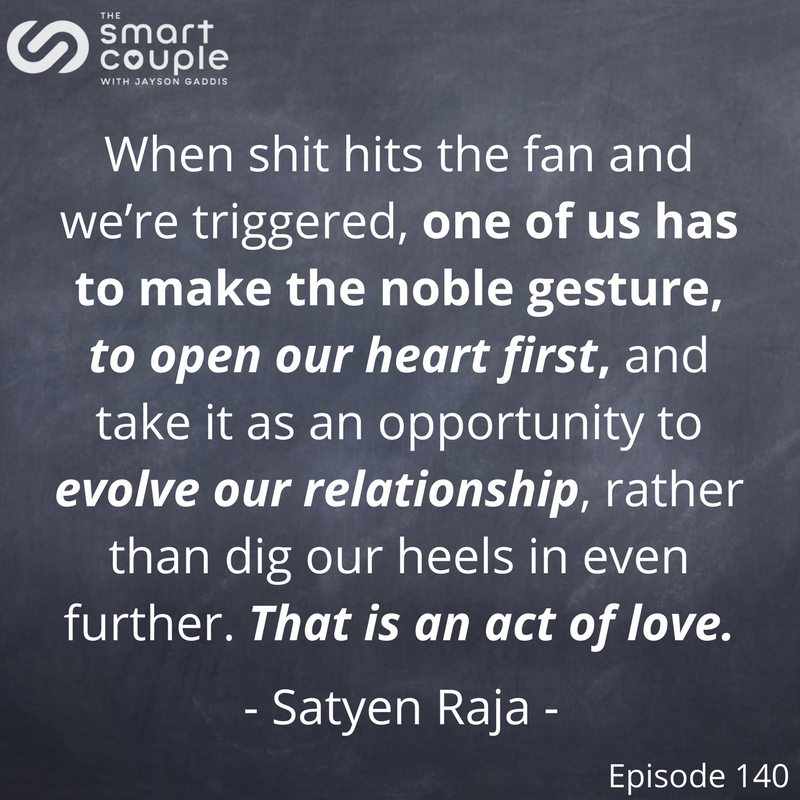 HELPFUL LINKS
GUEST BIO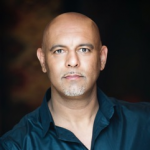 Satyen Raja, founder and president of WarriorSage, is a widely respected living synthesis of Eastern wisdom and Western practicality, combining the power of the Warrior and the wisdom of the Sage. He is a lifetime black belt Martial Artist and a penetrating real visionary who compels his clients to harness their greatest obstacles and transform them into their most powerful gifts. Satyen draws from the realms of unparalleled techniques of life mastery, his profound life experience, and his natural ability to navigate beyond societal, cultural and conditioned identities to attain peak consciousness.
A master in a plethora of healing and consciousness raising modalities, Satyen is unique in the world of business and life coaching. His revolutionary methods attract CEO's, Entrepreneurs and High Level Leaders from around the world. His provocative methods combined with his dynamic personality and passion for accelerated evolution create fundamental breakthroughs both for the individual and corporate culture. For all those who have had the great pleasure of his presence, he is known to be a man who most definitely walks his talk. Satyen has invested over three decades in hands-on research and he has led workshops for tens of thousands of individuals internationally in the art of 'true power'. Satyen's dramatic style is not for the timid. Through his teachings, your weaknesses become strengths… Quickly!
Satyen teaches with clarity, power and provocation. In his presence you are compelled to search within and to draw out your latent abilities. Through dynamic examples, compelling stories, mind-expanding experiences, spontaneous humour and proven practices, Satyen motivates, provokes and inspires you into accepting and cultivating your own greatness. Satyen's focus on bringing the teachings into your physical body and into your real life, rather than just lecturing, sets him apart from other teachers and empowers you to make lasting changes in your life.
When Satyen leads, he holds nothing back; he gives you all of himself. Satyen masterfully uses his unique gifts to bring your fears and your unconscious self-limiting patterns to the surface and then resolves them fast. Using his intuition and his experience, Satyen ripens you by exposing your deepest heart and gifts. He sees you at your core and takes you past your edge where real transformation takes place. The Path of the WarriorSage, although not for the timid, is deep, fast and razor effective. This level of spiritual practice is intense. You must be willing to go into the fire and grow your heart. Satyen offers this opportunity for transformation out of his passion to help you awaken. Satyen is the teacher for you only if you are seeking real change.