At some point, we've all had fights with a partner that left us feeling like the relationship was on shaky ground. THAT'S AN AWFUL FEELING.
But, don't feel hopeless. You can do something about it.
In this episode, we look at the five signs of an insecure relationship. Once you figure out if your partnership is truly insecure, then you can take steps to build the secure relationship we all deserve.
Here are a few of the highlights:

SHOWNOTES
What Type Of Insecurity Are You Experiencing [3:00]
Sign #1 – Not Emotionally Safe & Relaxed [5:00]

Sign #2 – Not Feeling Seen [6:00]

Sign #3 – You Don't Feel Supported After A Fight [7:00]

Sign #4 – You Don't Feel Challenged [8:00]

Sign #5 – You Feel Like You Can't Express Yourself [9:00]

Info

On Upcoming Free Web Events [11:00]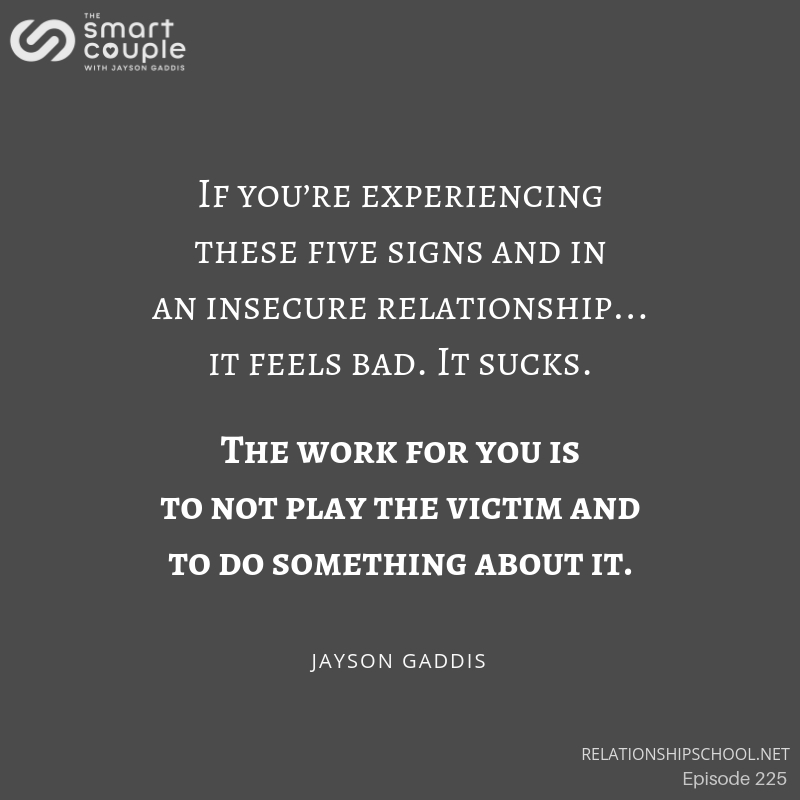 HELPFUL LINKS
FREE WEBINAR 
– 3 Keys to Building a Bulletproof Partnership –
Let me show YOU how to create a partnership where you feel safe and supported…
(Even if your partner won't do the work.)
Friday, January 11th
Noon MST (2pm Eastern)

Make sure to join the Smart Couple Facebook group in time for our five-day challenge Jan. 14th – 18th!
– Click below to join and get more info –