Want to hear how two people move from victim consciousness to a place of empowerment? Alexi and Preston have some bold answers on how to get over your victim mindset when it comes to relationships and your past. If you want to be challenged in a good way, this episode will help you.
SHOWNOTES
How did Preston & Alexi begin their journey of personal transformation? [14:00]
Why do people struggle in relationship? [21:30]
Preston & Alexi's backpack metaphor that helps them thrive in their relationship struggles. [23:00]
Why Preston couldn't last 20 minutes watching an HBO show with Alexi. [26:00]
The lessons from their last big fight. [30:00]
Preston shares the biggest tool a man can use during a fight with his partner. [36:00]
The deadly sins of love. [42:00]
The difference between victim and victim consciousness. [45:30]
Alexi shares a traumatic personal experience and how she empowered herself around it. [48:00]
Your action step. [57:00]
The 5 Deadly Sins of Love 
Criticism
Contempt
Defensiveness
Shutting Down
Lying
HELPFUL LINKS



GUEST BIO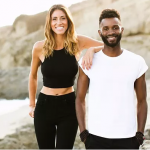 As the Co-Founders and Co-Creators of The Bridge Method, Alexi Panos and Preston Smiles have supported thousands of people who have dramatically changed their lives by participating in their various programs and workshops all over the world.
For the past 10 years, they've both dedicated their lives to learning as much as they could about Human Potential, Positive Psychology, NLP, Ontology of Language, Transformative Studies, Somatic Training, and Esoteric Wisdom to step into their own leadership and truly "walk the walk" of this work.  They are insanely committed to leading others on this same path, and empowering them to step fully into their unique gifts to create a world that works for everyone.
Recently married, this couple is truly committed to transforming the way the world works, by transforming the lives of individuals. They currently speak and lead workshops all over the world (both together and separate), as well as run their own widely successful inspirational YouTube Channels.  Both Preston + Alexi released their first solo books in June 2016 under the publishing house of Simon + Schuster; and will be releasing their first collaborative book with the same publisher in January 2017. http://alexiandpreston.com