Want to know one man's approach to calling in the one? How did he find his dream relationship? What exactly did he do? Then, how did he create the dream relationship even after it got really dark? Find out how to find and create a solid relationship through one man's inspiring story. Once again we learn a lesson from a man who was willing to face himself and go work on what he needed to.
Here are a few of the highlights:
SHOWNOTES
Dan's story [4:00]
Tools Dan and his wife use when they're facing challenges in relationship [13:00]
When to get help with relationship-trouble outside of the relationship [14:00]
How getting clear on what you want on an online dating site can help you meet your dream man or woman [19:00]
What Dan did to get himself prepared for marriage [20:00]
The danger of pushing your own values onto your partner [29:00]
What prevented Dan from bailing after two weeks of non-stop conflict with his wife [34:00]
How Dan got into personal growth and men's work [39:00]
Dealing with stigma around men's work [47:00]
How to bring spirituality to men's work [51:00]
How a traditional 'man's man' can relate to the more 'feeling-centered' side of men's work [53:00]
The shift in men's culture and the rise of personal-growth for men [57:00]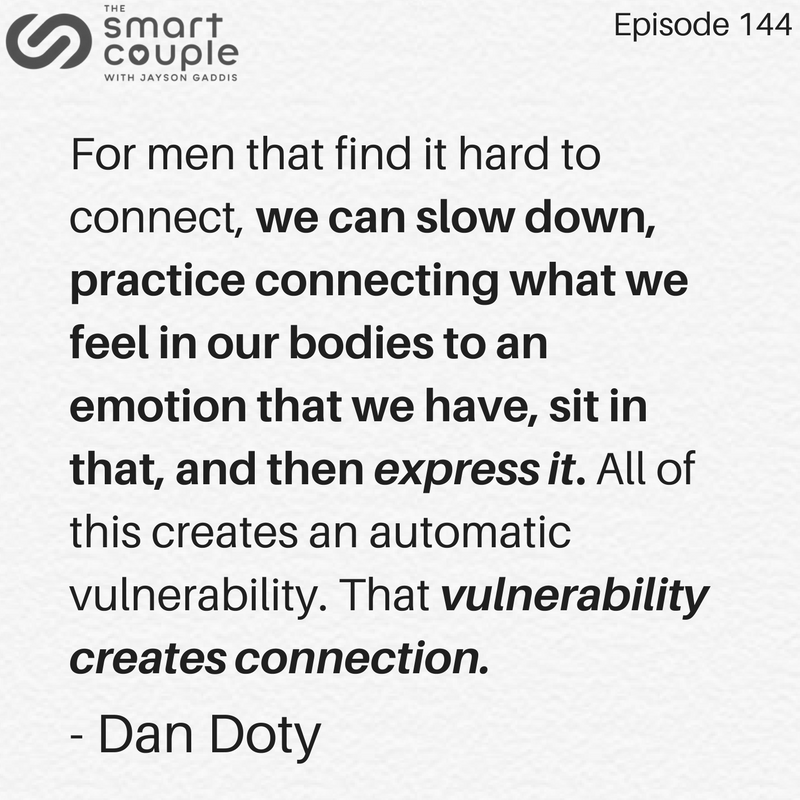 HELPFUL LINKS
GUEST BIO


I grew up in a cold, flat corner of the Midwest, safe and happy but very cut off from most of the world.  My early years were filled with hunting, fishing, football, physical labor on farms and in fields, and more heavy metal concerts than is healthy.  In college I started travelling abroad and 10 years of inner and outer exploration began.  I travelled all over the world and got in lots of pickles.
My career has been wide ranging, but the core of adventure and human growth has always held steady.  After college I spent over 600 days as a wilderness therapy guide and led groups of struggling young men up mountains, down rivers, and across frozen lakes.  Along the way I absorbed and learned a ton about the process of mentoring and what it means to be a man in our culture today.  Ever since that time spent in the wilds, helping guys live more real lives has been my obsession and mission.
My next chapter involved literally stepping out of the woods, taking a shower, and boarding a plane to New York City to start a completely new life.  I got a job as a public high school teacher in the Bronx and taught a group of amazing kids for two years as I earned a masters degree.  It was the most challenging and rewarding experience I've ever had, and I learned that I was a terrible academic teacher but affirmed that I was really good at developing relationships and mentoring young men.
I moved to Montana and began working with kids outdoors again when I got a call to be a PA on a wilderness based TV show.  I found a niche and launched a new career producing, shooting, and directing outdoor-based tv and film, most notably being a part of over 70 episodes of the hunting and food show MeatEater.  This incredible period offered constant travel to some of the most beautiful places on the planet and along the way I honed my storytelling skills through visual and written mediums.  It was a wild ride.
Today I live in Montana with my wife and son and too many animals.  I'm combining all of my experiences and am excited to offer experiences, services and media that all lead back to how men in our culture can show up in life in meaningful ways.  I believe that culturally we have created a situation for guys that rarely allows us to be ourselves, and I envision a world where we don't have to hold back so much.