If you're single and dating, are you tired of all the dating apps in our swipe-right culture? John Kim LMFT, better known as the Angry Therapist, joins me in a very interesting discussion about dating and relationships. Check out the video for dating tips!
People always ask John Kim why he calls himself The Angry Therapist. His reply, "It's my way of saying I'm human." The Angry Therapist isn't just a nickname, it's a lifestyle.
After his parents left Korea with $500 in their pocket, they settled in Georgia where John grew up learning how to breakdance and riding his skateboard. Since his parents worked all the time, John and his older brother were often together watching television. John claims he was a child of pop culture because all of his ideas of relationships and friendships came largely from watching movies and listening to music.
In his 20's, John moved to Hollywood, California where he ran a restaurant bar club for a while. It was very scenic for the first six months, it was very celebrity-driven. He felt like an outsider trying to fit in. But after John felt like he was being his pseudo self. He started living a life that was outside in, instead of inside out.
What changed in John's life that made him want to become a therapist?
When John got married at 29 years old, it was a co-dependent relationship. She was an actress and he was a screenwriter. Despite selling a few scripts, he struggled as a writer. While he was the stay-at-home husband, his wife was becoming a successful actress by working on movie sets and traveling.
The dynamic changed and they divorced when he was 35 years old. John felt like he had nothing. He didn't put any effort into self-care or friendships. He didn't have a sense of self. Once the divorce happened, that's when he decided to enter therapy.
When he told his therapist that he quit screenwriting, his therapist asked him, "If you can't do that anymore, what would you do?" That's when John said he would like to become a therapist. His dream was to have a private practice where he helped his clients.
After John went to therapy school, he had to complete 3000 hours of fieldwork to get licensed. So he went on Craigslist, got a roommate, and rented a room in Studio City. He started working at a non-profit organization as a teen counselor just to rack up the 3000 hours. That was the beginning of his rebirth where he found himself doing cross fit and buying a motorcycle, as a way of connecting back to himself.
How does John describe his work as The Angry Therapist?
John has always been fascinated with building communities and the Internet. So he started a
blog on Tumbler nine years ago called The Angry Therapist. He didn't think anyone would read it. But he loved blogging because it was a great way to connect with people through his life story. Since then, the rest is history. John continues to work as a coach and therapist and just became a father to a baby girl.
His new book "Single on Purpose" talks about how being single opens yourself up to going on a personal journey where you learn about yourself, who you want to be, and how you want to be. You can then bring all that to the table for when you find someone you want to invest in.
If you want to learn more about relationships go to https://relationshipschool.com/training.
Jayson
Founder, The Relationship School®
Shownotes:
4:20 Men and therapy
9:00 John Kim's background and childhood
16:55 Dealing with racism in John's early years
20:30 How his divorce pushed John to start getting interested in therapy
28:00 Understanding parenting through experience
31:50 Working as a coach in this day and age
36:25 About John's new book "Single on Purpose"
37:55: Dating and friendship advice
45:20 Final advice
46:40 Action Step
Useful Links: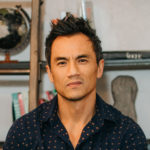 John Kim, LMFT, is also known as The Angry Therapist — a published writer, speaker, life coach, and a co-founder of The TAT Lab and JRNI Coaching — Life Coach Training and Community.
As he was going through an expired relationship, John created a blog on Tumblr and titled his first post "My Fucking Feelings". He named his blog The Angry Therapist and started to document his journey post divorce. Even though he was a licensed therapist, John chose not to present himself that way. He wore t-shirts and jeans. He preferred the language of "me too" as opposed to "you should". He blogged about his shortcomings, revelations, and his views on relationships, the self help business, and the world. He found CrossFit, bought a motorcycle, and started coaching people in unconventional ways.
Soon he had a full practice. He would see clients all over the world using his phone. And zoomed around town and his motorcycle to do sessions in coffee shops. Through this process, he came up with his own concepts. He realized that there was a new way to help others, combining what he learned in therapy school with life coaching and using technology to be mobile and create online communities, but most importantly, he took a very different approach, one frowned upon by the rigid and antiquated therapy world. He practiced transparency. People keep asking him why he calls himself The Angry Therapist. His reply: It's my way of saying I'm human.
John's path has led him to become a pioneer in the in the field of self help, rebranding from stigmatized to sexy. He is an entrepreneur, published author, public speaker, a teacher, and a raw, unique voice that resonates in deep places with all whose path he crosses. Instead of a therapist, he likes to think of himself as a lifestyle designer.
The Angry Therapist has become greater than just John Kim. Today, it is a place to find support no matter where you are or what you're going through. It's a place where definitions of our common human struggles are based largely on experiencing life and allowing it to break and heal us, which is very different than labels applied by learning about suffering in textbooks. It is a growing team of therapists and life coaches all over the world- practicing transparency, living as the truest versions of themselves, continually growing, and in this process becoming Catalysts. It is also a school, teaching this new way of helping others and supporting them in that journey. It is a thriving community unlike any other. The Angry Therapist is a lifestyle.