Are you just defaulting to monogamy?
Ever GENUINELY asked yourself, "Would a different sexual model work better for me?"
Author, sex-advice columnist, podcaster and public speaker Dan Savage says we should all ask ourselves these questions regularly. Dan and his husband have chosen what they call a "monogamish" relationship, occasionally hooking up with other partners in a way that's suited them well for decades of marriage. They've accepted that it's impossible to fulfill all your partner's needs and that's a message we can all learn from.
We usually focus on monogamous long-term relationships on the Smart Couple podcast, but in this episode, we'll learn about how all types of relationships can be successful. Listen in and get ready for some introspection into your own sexual expression.
Here are a few of the highlights:

SHOWNOTES
What It Means To Be "Monogamish" [2:00]
Culture's Lies About Love & Why You'll Never Be Enough [9:00]
Advice For Bringing A Third Person Into Your Relationship [13:00]
Why Non-Monogamy In A Gay Partnership Can Be Easier Straight Relationships [21:00]
Thoughts On Transforming The Broken Monogamy Model [28:00]
Dan Savage's Journey To Becoming Monogamish [30:00]
How Dan And His Husband Work Out Their Differences [34:00]
Is Infidelity Really The Ultimate Betrayal? [42:00]
The Consequences Of Denying Your Sexual Needs [46:00]
Closing Thoughts [51:00]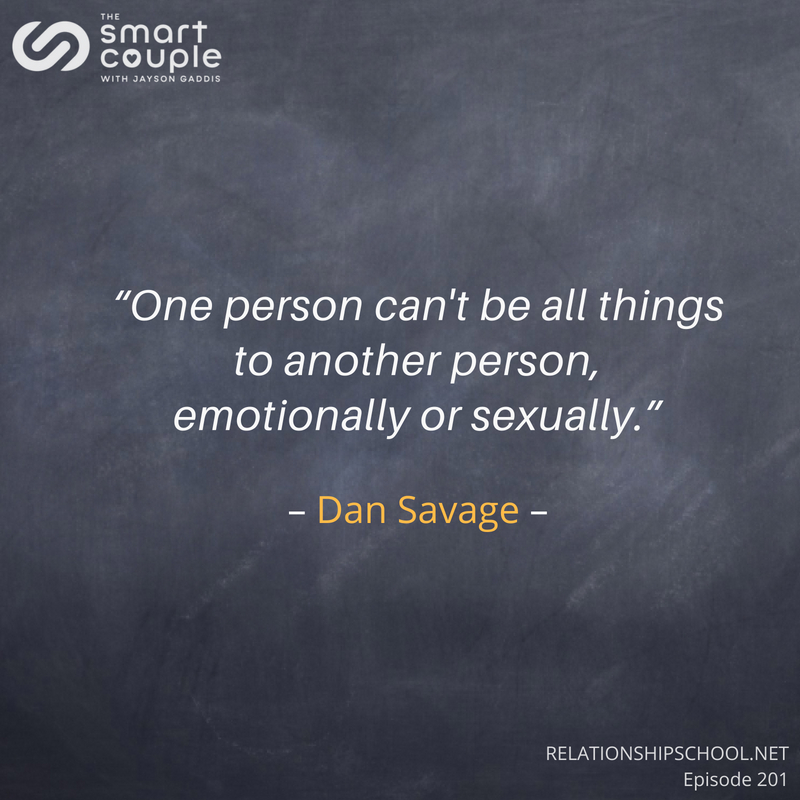 HELPFUL LINKS
GUEST BIO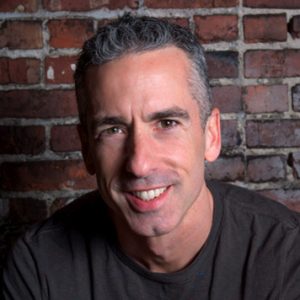 Dan Savage is an author, a sex-advice columnist, a podcaster, a pundit, and a public speaker.
"Savage Love," Dan's sex-advice column, first appeared in The Stranger, Seattle's alternative weekly, in 1991. The column is now syndicated to more than 50 papers across the United States and Canada. Dan has published six books. His newest book, American Savage, will be published in May of 2013.
In 2010 Dan and his husband Terry Miller founded the It Gets Better Project. The IGBP has gathered tens of thousands of videos from people all over the world offering hope to LGBT kids. The book—It Gets Better: Coming Out, Overcoming Bullying, and Creating a Life Worth Living—was a New York Times bestseller. In 2012 the It Gets Better Project was awarded an Emmy.
Dan is a regular contributor to public radio's This American Life. He is also a frequent guest on The Colbert Report, Real Time with Bill Maher, and other television programs. In the fall of 2011 MTV filmed Dan as he toured colleges performing "Savage Love Live," the live version of his sex-advice column. That tour became the basis for the 2012 MTV program "Savage U."
In 2006 Dan launched the Savage Lovecast, a weekly, call-in advice podcast. It is now one of iTunes top 50 podcasts. Dan's graphic, pragmatic, and humorous advice has changed the cultural conversation about monogamy, gay rights, religiosity, and politics. Dan lives in Seattle with his husband, their son, and a one-eyed, deaf poodle named Stinker.