It's fair to say that relationship is a journey to discover and learn the answers to one love-related question after another. So, what better way to celebrate this in our 200th EPISODE than to answer as many of your love related questions as we can!
How do you balance personal freedom and relationship? How can you prioritize your partner when you have kids? How do you help your partner leave pain in the past? Jayson takes on these questions and many more – sent directly from you, our loyal podcast listeners.
AND, if we don't answer your question in this episode, chances are you can find the answer you're looking for in the nearly 200 hours of free relationship insight we've shared in the podcast over the last three years.
Thanks for all of the support, everyone. Enjoy, and make sure to enter the contest!
Here are a few of the highlights:

SHOWNOTES
200th Episode Contest Details! [2:00]
Doing Partnership With Emotionally Unavailable People [11:00]
How To Hold Your Partner's Feet To The Fire – With Compassion [20:00]
Working Through Past Pain For A Better Relationship [24:00]
How to Prioritize Your Partner When Kids Join The Mix [27:00]
Getting Involved In Your Partner's Health Issues [34:00]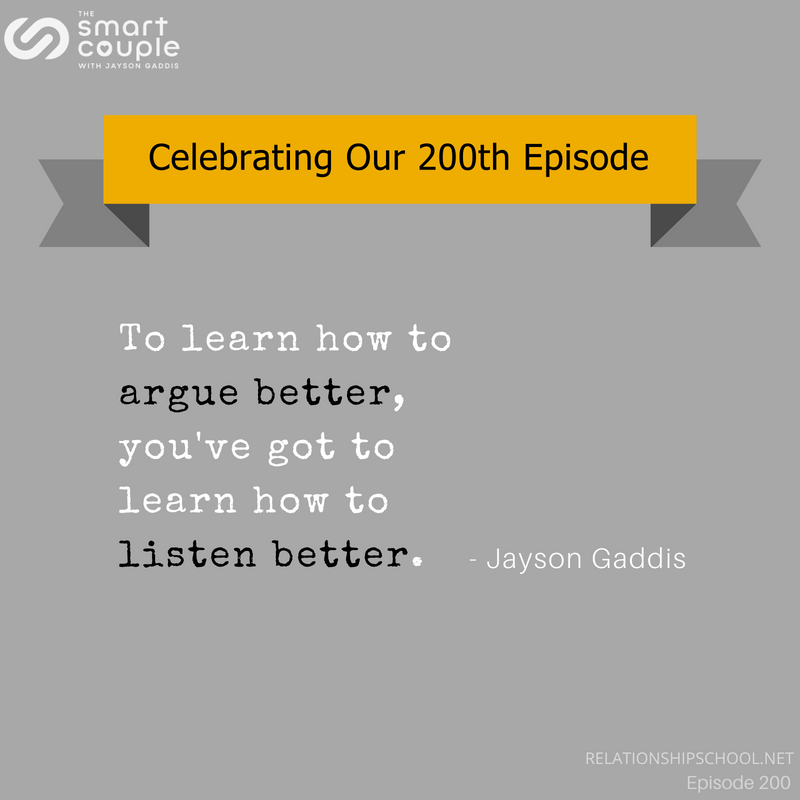 HELPFUL LINKS
'Win a Chance to be Coached By Jayson'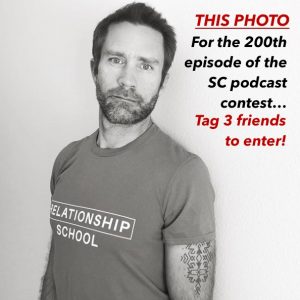 To celebrate our 200th Smart Couple episode, we're giving away some big prizes:
Grand Prize – A 45-minute coaching session for you (or you and your partner) with Jayson
2nd Prize – $500 off your DPIR course
3rd Prize – $200 credit for any Relationship School® course
4th Prize – $30 to be used in the Relationship School® store
5th Prize – Smart Couple Quote Book signed by Jayson
Boom! Who's in?
To enter and win you must:
1. Be or become a member of the Smart Couple Facebook group.
2. Follow Jayson on Instagram and tag 3 friends under his most recent selfie (looks like the one above).
3. Record a selfie video (2 minutes or less) teaching us about one thing you learned from the podcast so far and why it's impacted you so much. And post it in the Smart Couple Facebook group.
The contest is open to anyone in the world until Sunday, June 17th at midnight MT. Winners will be announced on the Smart Couple Podcast's 201st episode and on Facebook Wednesday, June 20th.
Will you play? Enter today!