Wondering what you can learn from a millennial couple? Turns out it's quite a bit!
Kiyomi and Joel are a mixed-race millennial couple that discovers how much their culture plays into their relationship. These two high school sweethearts grew up together and their system for growing together as they mature (as we all do) is inspiring.
Think where you come from isn't a big part of your love life? Uncertain a couple so young can offer profound wisdom? Prepare to be surprised!
Here are a few of the highlights:
SHOWNOTES
Kiyomi & Joel's high school love story [9:00]

What is Relationship OCD? [12:00]

Joel's secret for consistent happiness [17:00]

Couple discovers being mixed race affects them [21:00]

Kiyomi & Joel's conflict management method [29:00]

What's the secret to balancing work and relationship life? [35:00]

Jayson's advice when planning a wedding [43:00]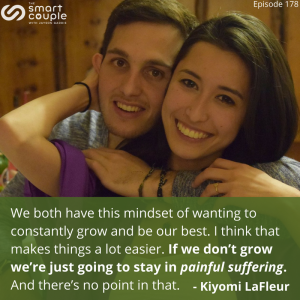 HELPFUL LINKS
GUEST BIO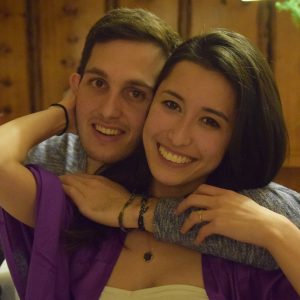 We met back in 2007 at a high school dance in Pennsylvania. A good friend had introduced us to each other and we immediately had a connection. We have been together for 10 years now, and have taken a break for maybe a couple months when Joel went to Spain. We have gone through a lot together – me having intense anxiety/OCD tendencies, my father and family members passing, moving together from Pennsylvania to Boulder and other situations that have brought made us extremely close. We got engaged last November and are currently planning our wedding.
I would say our relationship is the best it has ever been and a big part of it being so good is our willingness to constantly be better as human being. Joel has come from a very conscious family and has had a relatively good childhood with parents that were very loving and caring. I came from a bit of a rocky childhood, where my parents were caring but their relationship was very broken due to my father being an alcoholic. I say this because Joel has really taught me what a loving relationship looks like, and at times, I had wanted to run away due to my own fears and doubts that had been mirrored from my parents.
Joel and I are both entrepreneurs. He runs a marketing business here in Boulder and I am currently a yoga therapist/coach. I love working with people on spreading awareness on conscious relationships and I also love working with people who have anxiety. I have YouTube channel which have been going well and am wanting to create an online community off of my YouTube channel as well. I am currently going through an exam to become registered psychotherapist here in Boulder so I can further work with more people.
Struggles: Joel really likes to work a lot (I would say that he used to be a workaholic, although wouldn't really admit it) and that has put a strain on our relationship many, many times. We have had many discussions where I didn't feel he was prioritizing our relationship and where he would just be working 12+ hours a day. Sometimes we would do activities together but I never felt he was fully present. This has been a bit of an issue in our relationship, sometimes I feel that he would rather work than be present. Even when we are on a vacation, he seems to want to be working.
No kids, we are not married and we have one hound/pointer mix named Kai 🙂