How do men shut down? What is the process?
Then, how exactly do they finally open up? What is it that has a man open up and share his feelings, his heart, his truth?
In this episode, Paul shares his story of opening up… Eventually he found a career helping others open up.
SHOWNOTES
(4:35) Introduction Paul Bashea Williams

(12:00) About his book dear future wife

(14:35) Experiences that causes Paul to close himself

(17:35) How asking for help works on different cultural/social groups

(21:25) Blocks men deal with on relationships

(25:40) How men can open up and be more vulnerable

(29:55) Young men being more open to personal development

(31:20) Why men can be so hard in relationships
LINKS
GUEST BIO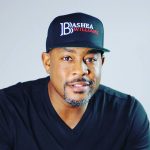 Paul Bashea (Bah-Shay) Williams, LCSW-C, LICSW is described as an Intellectual Emotionalist. Someone who understands what a man thinks and what a woman feels. Helping the two meet and have common ground by encouraging emotion and logic to agree.
He is a dedicated father, a licensed Mental Health Therapist, Relationship Advisor and Author of the book Dear Future Wife: A man's guide and a woman's reference to healthy relationship.  He owns and operates his own private practice at Hearts In Mind Counseling where he works with vulnerable youth and specializes in marriage and family, couples, and individual counseling.
He writes about life, love, and fatherhood. His writing, acting, and public speaking has been featured on several popular websites, BET, Huffington Post, TV One, Radio One, Fatherly, national syndicated radio shows, ABC, NBC, FOX, CBS, movies, and conferences all over the nation.
He is highly recommended and sought out as a person who is an advocate for healthy individuals and relationships.
Bashea first started writing to first hold himself accountable and get a better understanding of people's hearts and minds. He loves how relationships work and operate. He strives to help others through his words. Bashea Williams has provided valuable insight on relationships, motivation, and parenting on a variety of panels and conferences.
He is highly recruited and his work is valued as measurable and complete.
He has years of providing counseling services for singles, couples, youth, and families.
Bashea Williams has become well-known for his Trademarked Dear Future Wife series that serves as a man's guide and a woman's reference.  His goal is to influence healthy relationships by having compromise, consideration, and an understanding of how people interact.
You can follow his work at BasheaWilliams.com, BasheaWilliams on Instagram, Facebook, and YouTube.