Knowing the different stages of a long-term relationship can be really helpful.
What does it take to move from one stage to the next? What relationship stage are you in now?
In this episode, Jayson breaks down the three stages of long-term relationships, why they matter and what it takes to advance beyond the three stages to the ultimate partnership phase we all desire.
Here are a few of the highlights:

SHOWNOTES
Relationship Stage One: Infatuation [4:00]

Relationship Stage Two is Challenging! [8:00]

Earning the RIGHT to Get to Stage Three: True Love [9:00]

Jayson's Fourth Stage: Love 360 [11:00]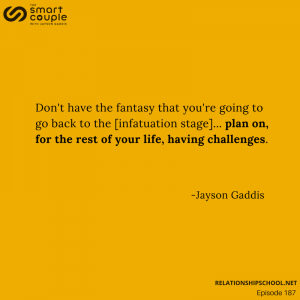 HELPFUL LINKS
Download the Relationship Test & Find Out How Safe, Sexy, Or Successful Your Relationship Is