A lot of what happens at weddings is about tradition. Some of that stuff is really great. But those traditional 'in sickness and in health' vows SUCK!
Marriage vows are a valuable opportunity to commit to the type of relationship and growth you both want. Don't pass that up.
Already married? About to get married? Planning to get married? Anyone in those camps should check this one out and gain some insight into what vows that actually mean something are like.
Here are a few of the highlights:

SHOWNOTES
Personalized Wedding Vows Vs Traditional Vows [2:00]

Why You Should Revisit Your Vows … Over & Over Again [5:00] 

Good Vows Challenge Your Partner [7:00]

Tell Us About Your Wedding Vows! [11:00]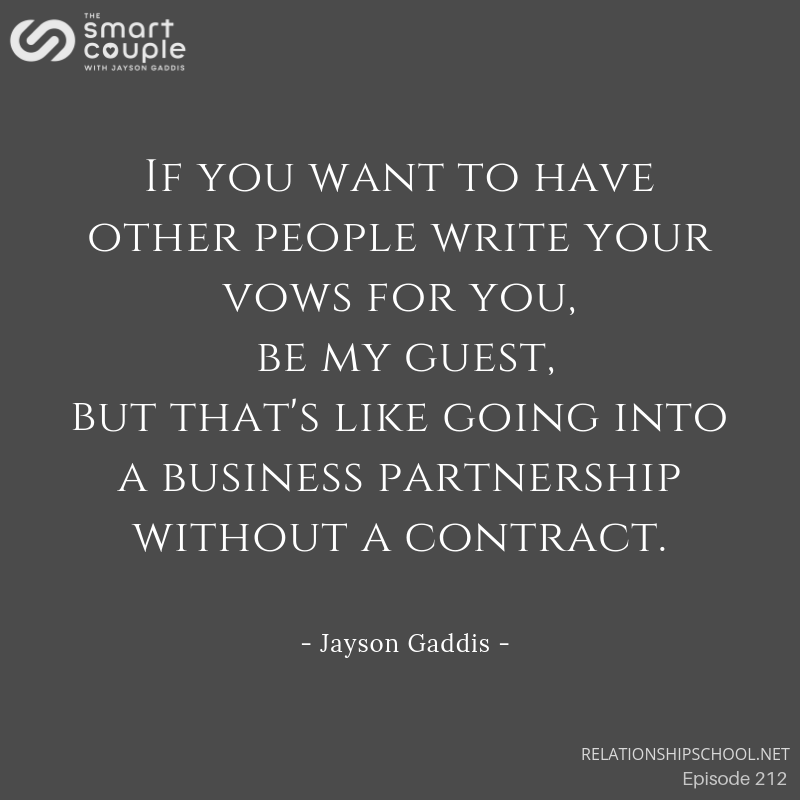 HELPFUL LINKS
The Relationship School's® Weekend Intensive
In Boulder Colorado! November 9-11, 2018
– Embracing Conflict – 
Most of us never received an education about what it takes to make a mature romantic relationship work, especially how to effectively navigate conflict to feel closer rather than erode trust and intimacy. Join us for 2.5 days you can't afford to miss if you want to go to the next level in your intimate partnerships.