A lot of us don't want to admit we're insecure… about anything. But, owning our insecurities can be sexy!
Tired of pretending you're better at things than you really are? Let's be real, no one is 100% confident in all areas of their lives AND THAT'S A GOOD THING. It means we're challenging ourselves to grow. Hiding our shortcomings is super stressful and frankly, a sign of entitlement.
In this episode, Jayson unpacks the often misunderstood concepts of "insecurity" and "entitlement" so you can find out where your insecurities are hiding, own them, and celebrate them!
Here are a few of the highlights:

SHOWNOTES
Why Insecurity Gets a Bad Rap [2:00]
Call B.S. on Your Insecure Friends! [5:00]
What Does it Mean to be "Entitled" [6:00]
Your Action Step – It'll Make You Look Sexy! [9:00]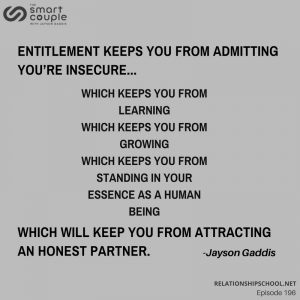 HELPFUL LINKS