In this episode I interview a new friend, Brandon Alexander, and spontaneously it turned into a pretty intimate conversation about boyhood, manhood, sports and dance, fears, family, love, and connection. I think you'll dig it.
SHOWNOTES
(2:40) Introduction Brandon Alexander
(12:00) Indoctrination of men is the same in all races
(17:00) Males in the dancing scene
(21:00) Lessons learned from not dealing with your fears and frustrations
(29:10) About the fear of rejection
(32:50) Choosing between stability / security and Passion / vulnerability
(41:35) About male intimacy
HELPFUL LINKS
GUEST BIO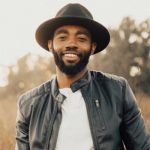 Brandon G. Alexander is a young and inspired creative, born in Bremerton, Washington. At a young age Brandon began dancing and performing in talent shows and discovered he enjoyed the spotlight.  He continued performing and took up sports when his family moved to their hometown of Killeen, Texas.
Since its birth, Brandon has shifted 100% of his energy and focus to New Age Gentlemen providing services that empowers men both young and old. With affirmation and support from a community of people, New Age Gents' following has grown socially and continues to expand. From social outlets like Facebook, Instagram and more recently a podcast, New Age Gents now has a mentoring program and offers one-on-one training to build character, confidence and self-awareness.