Discover How To Have The Best Relationship Of Your Adult Life
The Deep Psychology Of Intimate Relationships (DPIR)
Pronounced "Deeper"
GET ON THE BUS
And join the movement to bring Relationship Education to Life!
Dear growth-development oriented friend,
If you are half-way awake and you look around, you see there is a huge amount of suffering in the world. Not just far away, but close at home.
Behind your neighbors happy smiles lives a man or woman who feels deeply alone, even though they have hundreds of "friends" on facebook. Hell, they might even act happily married but deep down they have been on antidepressants for years.
And in the privacy of your own mind, you might admit that you too are suffering, at least some of the time, right?
And, if you look even closer, you see that the quality of your life depends on the quality of your relationships. And if you have ever had a life-partner and you are disconnected or in a fight, life is just harder.
And, if you have a primary relationship that is stressful on a daily basis? Your day is not only more difficult, your body feels the burden. And, the research is now clear how damaging it can be to our health to have unsatisfying or stressful relationships.
You get this right?
Now, what's interesting here is if we feel challenged or incompetent when it comes to how to have a successful long-term relationship, it is not our fault.
Because no one is taught us how to have a stellar intimate relationship. We were merely "shown" how to have a partnership by the people we were in most contact with such as our parents. And, no offense to them, but they had a lot of limitations. As did their parents, and their parents. And none of it is their fault.
None of our ancestors formally learned.
"How to have an Intimate relationship" was simply not taught in school, in church, in sports, or anywhere else in a formal way.
So, how do you expect to have a good one then? Well, if you do expect yourself to have a great relationship without ever learning, that would be like expecting yourself to be an Olympian without ever training. It will only lead to massive frustration and you beating yourself or your partner up over time.
So, you get what you got and unless you get an education and learn a different way, you won't be improving your relationship skills anytime soon.
However, there is one way for us to change the generations of mis-education around intimate relationships…
Enter The Relationship School®.
The Relationship School® is my mission to help people learn the class they never got in school. The relationship school will teach everyday adults how to do this crazy thing called long-term partnership.
Learning how to do "intimate" relationships of course, only serves to help our family, friend, and business relationships as well.
In addition, The Relationship School® will train mentors and ambassadors who will go into schools and teach teens and young adults the very same skills, so they can grow up and rock their intimate and interpersonal relationships.
I know, my idea is bold and a little crazy. But with your help I know we can pull it off.
Why do I care?
Because I got bullied in high school
Because I didn't know how to talk to girls
Because once I figured that out, I wasn't being authentic, it was a game to get them to like me
Because I felt deeply alone
Because I thought about suicide in high school because I didn't understand the point of life
Because my parents didn't know how to connect with me
Because I spent my 20's failing hard in my intimate relationships which added to a deep sense of inadequacy that I felt.
Because had I learned this class in school, I'm guessing I would have had deeper, more fulfilling, less painful relationship experiences
Because kids everywhere are like I used to be. Suffering, hurting. Feeling alone. Not just kids. Adults too. Loads of suffering.
The good news here is we have a massive opportunity to put a dent in this epidemic.
If you want to help me teach relationship to kids and adults, you gotta learn the skills first.
Hence, our 9-month training that will train you to become a major role model to young people everywhere (Or you could choose to be one of those incompetent adults that can't work their shit out, Your choice).
By training at The Relationship School®, you not only learn how to do intimate relationships, you will learn how to navigate extremely tricky people and dicey interpersonal conflicts in your work and family relationships.
You will feel like the most emotionally mature person in the room who can handle just about any relational dynamic. This feeling of true self-confidence is very satisfying.
Welcome to the tribe of people who will change the face of relationship education forever by being a living example of someone who has relational awareness, empathy, and literacy.
Let's do this!
Big respect,
Jayson
P.S. Join us on The Relationship School® Bus and help us transform lives everywhere (while improving your own relationships!)!
Hear what others have to say…
Ambassadors that Endorse The Relationship School®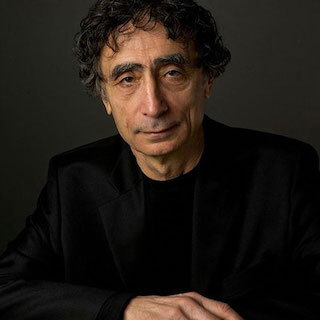 Dr. Gabor Maté
"We need to foster emotional competence in our children, as the best preventive medicine."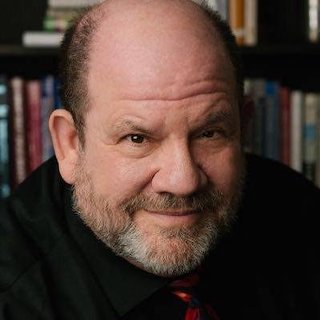 Dr. Stan Tatkin
"I mean, none of us learned this stuff in school. We didn't learn how to learn and we didn't learn how to do relationships. Those are the two things that should be taught in schools."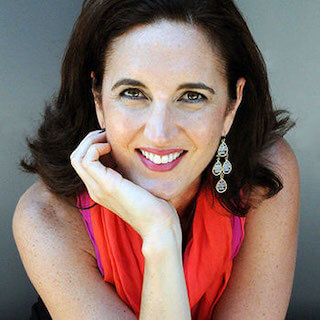 Dr. Alexandra Solomon
"The quality of our relationships determines the quality of our lives. When we invest time and energy learning how to love and be loved, we heal pain from the past and we create the conditions for greater health in future generations."
More Comments From Our Students...
Transform Your Relationships.
Click here to see the full interview with Relationship School® students Margot Rogers, Kelly Brant, Denise Semanchin, and Katharine Bracken
I'm overwhelmed with gratitude considering the transformations I've experienced in my relationships. I love the effective tools, methods, and support that helped me embody deep confidence as a partner, coach, father, friend and beyond. I light up thinking about how growing in this way has had an exponential impact on my life and family – I can't imagine a better investment in myself. My only regret is not "Getting this" sooner. Thank you for serving up "The course I never got in school" so powerfully. I can only imagine DPIR becoming even more powerful overtime.
Learning and working with Jayson Gaddis and The Relationship School has been like an education on steroids (in the best way possible). Through study and practice I am putting some significant pieces of my own story together to see more clearly the whole picture and to gain a much broader view and expansive space for myself to live in and to be with others, in relationship. Sometimes it's messy. Sometimes I fall down and have to get back up. And sometimes I find a new key to unlock an old door! One by one, as I step through them, it's as if I'm taking a long-awaited walk home to myself and into connection in a way I've always imagined possible – not the fantasy, but in real time and real life! I feel grateful and encouraged, more confident and capable, awake and alive. Thank you, Jayson!
Full Tuition
• $500 non-refundable deposit reserves your spot

• 9-month and 12-month payment plans available
[et_pb_fancylist title="Here's what you'll get when you get on the bus:" use_icon="on" font_icon="%%171%%" _builder_version="3.0.60″ header_font_size_tablet="51″ header_line_height_tablet="2″ body_font_size_tablet="51″ body_line_height_tablet="2″]
How to guarantee success in long-term relationships
The Map & Indestructible View
Relationship Tools that last a lifetime
The chance to become an apprentice if you successfully complete all your work and "graduate" from the schooc
Live coaching from coaches in the Program
Live group coaching from Jayson
[/et_pb_fancylist]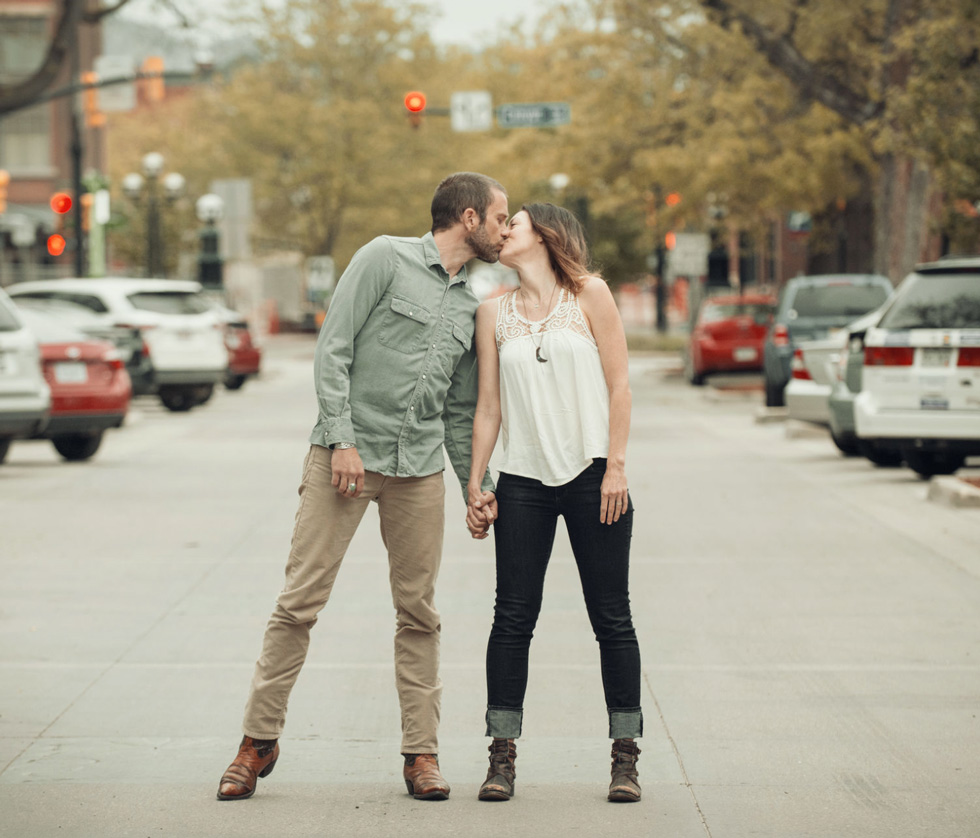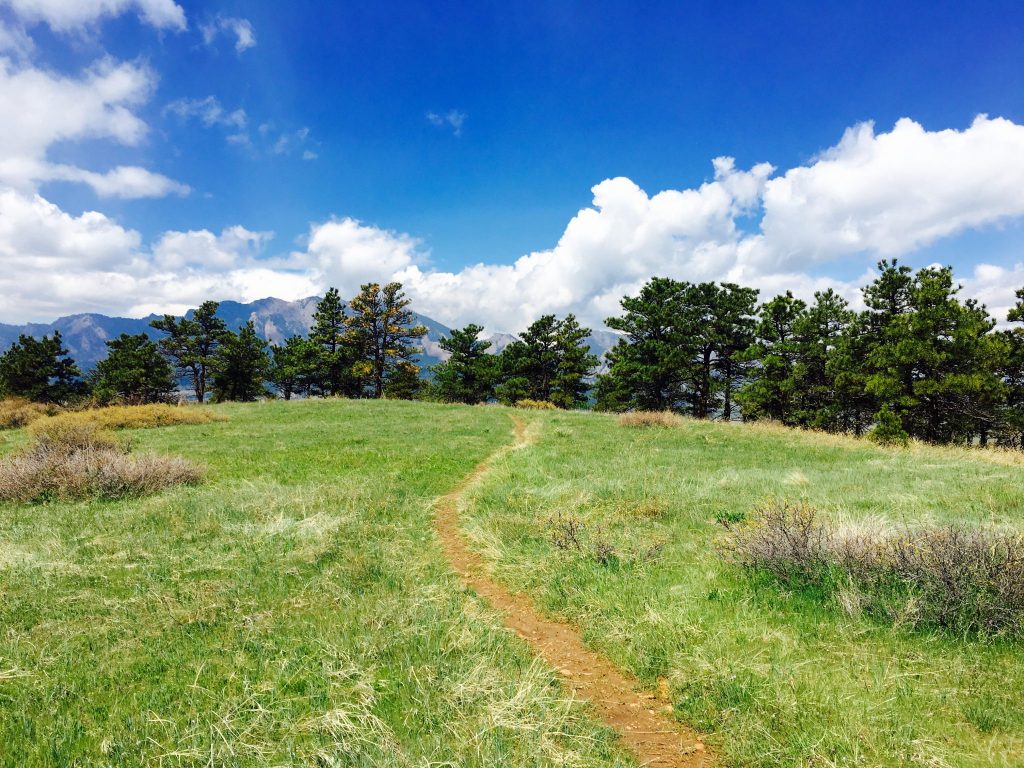 [et_pb_fancylist title="And, all of this:" use_icon="on" font_icon="%%171%%" _builder_version="3.0.60″ header_font_size_tablet="51″ header_line_height_tablet="2″ body_font_size_tablet="51″ body_line_height_tablet="2″]
Growth calls with our amazing Leadership team every other week!
A deep dive into human development and how we develop over time
Owning your NEEDS! (yes, you have them)
A feeling that no one can take from you – CONFIDENCE, knowing you finally learned how
A 9-month accountability commitment with yourself, which set you up for no more failure and shame
[/et_pb_fancylist]
As you learn the skills, you will have the opportunity (if you feel inspired) to give back by helping us with our larger mission of reaching hundreds of thousands of young adults.
Listen To What Students Say About Jayson & The Relationship School®
I'm a very self-contained person and I didn't truly see or realize just how shut off I really am and how hard it really is for me to verbalize emotions or recognize their impact on my body. I'm still very much learning…
This is better than any therapy I've ever received (to the tune of tens of thousands of dollars). I want to share this with everyone I know because almost everyone I know is struggling relationally. I wish I'd had this when I was 16.
My life is changing. It's slow and subtle, but I FEEL a shift in energy. I feel a hope for the future and my life I never had before. True, genuine hope – and excitement.
"I think the biggest shift we had in our relationship post-cheating, is from what I see you teaching in The Relationship School®, Jayson. This sense of taking full responsibility for ourselves and our happiness." – Noah
Live Weekends taught by Jayson
September 20th - 22nd, 2018 - DPIR
May 16th - 18th, 2019 - DPIR Graduation
Student (DPIR) Course Dates and Times
We will have Virtual Growth Classes every other Wednesday taught by Level 2 students to support the curriculum taught by Jayson. All of the dates are to the right.
All virtual classes will be every other Wednesday at 12:30pm Mountain Time.
These required calls will all happen through Zoom. When we have the link to sign up for the calls, we will send it to you and post it here.
First Semester
Virtual Classes 2018
September 5, 12:30pm
September 19, 12:30pm
October 3, 12:30pm,
October 17, 12:30pm
October 31, 12:30pm
November 14, 12:30pm
November 28, 12:30pm
December 12, 12:30pm
Second Semester
Virtual Classes 2019
January 9, 12:30pm
January 23, 12:30pm
February 6, 12:30pm
February 20, 12:30pm
March 6, 12:30pm
March 20, 12:30pm
April 3, 12:30pm
April 17, 12:30pm
May 1, 12:30pm
A Quick Reminder From Our Founder
The Relationship School® is designed to teach you the class you should have been taught in high school or college that covers everything you need to know about how to have a thriving successful long-term relationship.
While our context is "long-term partnership," the applications are far reaching. This training will help you become a more effective listener and communicator which has far reaching implications for your life at work, home, and in any social interaction.
The Relationship School® courses are for any adult individual (or couple) that wants to get the fundamentals of relational empathy, awareness, and literacy dialed in for good.
There are only 50 spots available this year in the Relationship School®, so sign up today to secure your spot.
Full Tuition
• $500 non-refundable deposit reserves your spot

• 9-month and 12-month payment plans available (see below)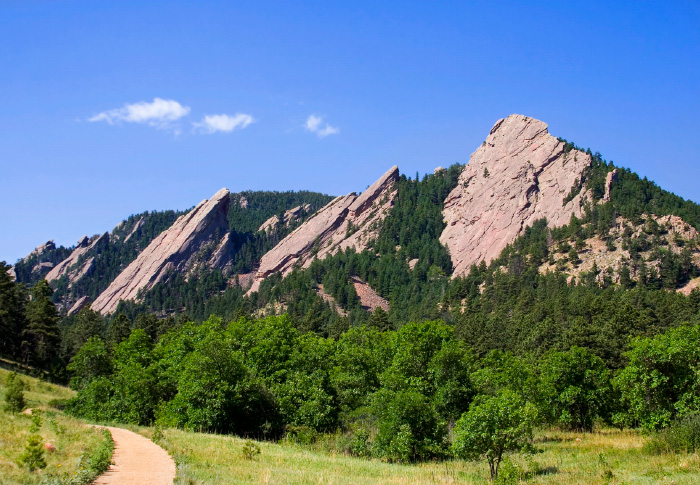 2 live weekends in Boulder (Sept & May)
17 class model on 17 topics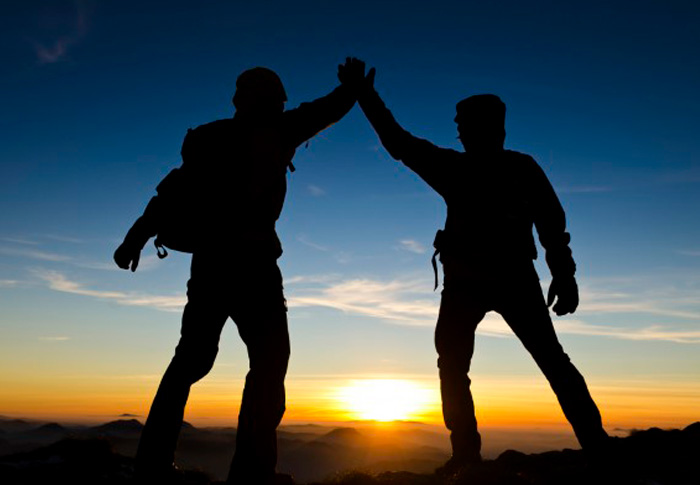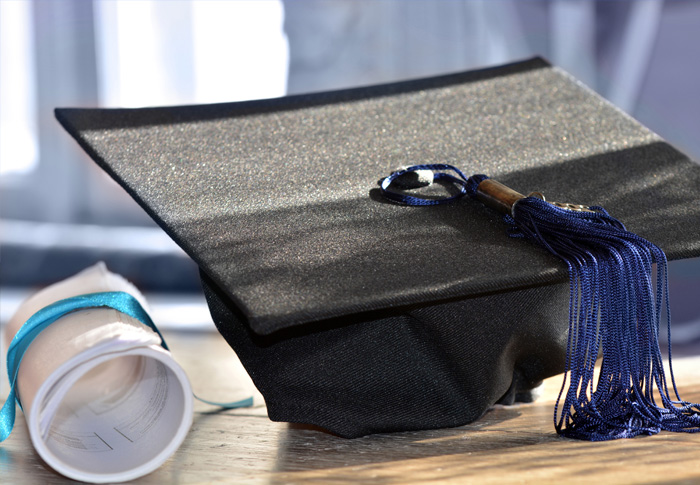 Relationship School® graduation certificate if you complete your work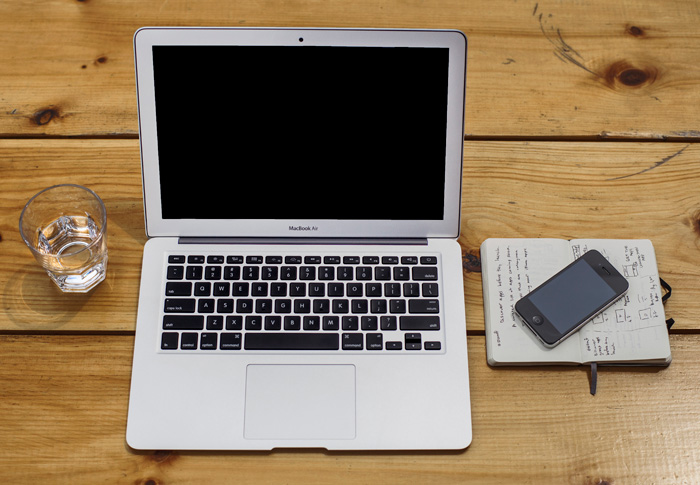 2 classes per month for 9 months (17 1.5 hour classes)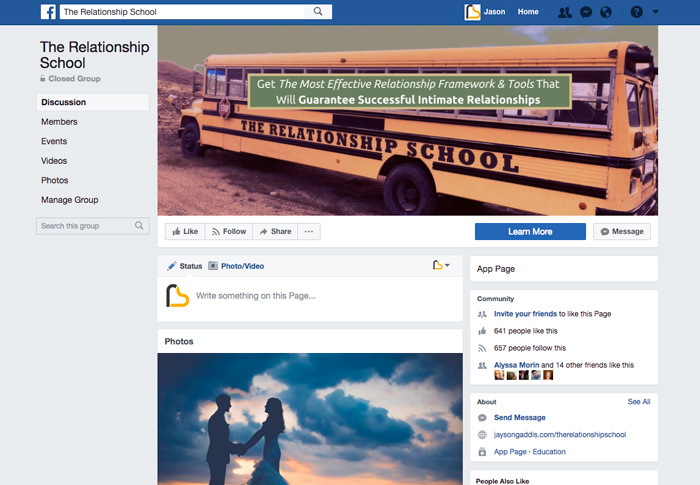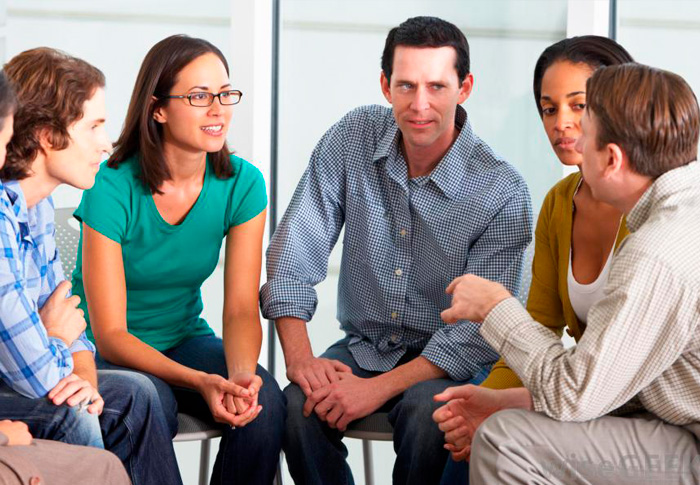 Some Of What We Will Cover
The Indestructible View–What is it and how rock it
Love 360 defined
The main goal of a long-term relationship (secure homebase, growth, wholeness)
Intimacy defined
How to set context with others
Self-value
Believe your story, it will happen (visualization)
Deserving and what's in the way of your mindset
What part of the story matters
Mindsight vs mindset
Warriorship
The degree to which you know self, is degree that you know other.
NEST meditation
Personal responsibility
The self-knowledge inventory
7 areas of self-knowledge
Communication 101
Giving- how to communicate without losing people
Receiving–how to listen so others feel deeply understood
4 layers of listening
Getting their world
The power of validation
Giving impactful feedback that serves
Psychology of Relationships
How we are wired and what happens as a result? Secure attachment
2 core human needs
Core human wound
Your brain on relationship
Co-dependency and emotional fusion
Boundaries
How to repair immediately or else…
Earning Love
How to Value Yourself so other people do
Trap of Happy
Shame and guilt
How to break fantasies and resentments
The 180 Clarity to Freedom Process
Agreements and context
[et_pb_fancylist use_icon="on" font_icon="%%45%%" icon_color="#383839″ _builder_version="3.0.60″ header_font_size_tablet="51″ header_line_height_tablet="2″ body_font_size_tablet="51″ body_line_height_tablet="2″]
Show up for every single class (if you miss one, you write a 1 page paper after watching the replay)
6 reflection papers
1 final paper fall semester
1 final paper Spring semester
Semester reflection video (to share with group)
Books study: You will read one book per semester for a total of 2 books and write a report on each book.
[/et_pb_fancylist]
WHAT DOES GRADUATING FROM THE RELATIONSHIP SCHOOL® GET ME?
[et_pb_fancylist use_icon="on" font_icon="%%45%%" icon_color="#383839″ _builder_version="3.0.60″ header_font_size_tablet="51″ header_line_height_tablet="2″ body_font_size_tablet="51″ body_line_height_tablet="2″]
The foundational skills to succeed in a long-term intimate relationship
You walk away certificate of completion from The Relationship School®
Massive boost in your self-confidence, knowing you have completely transformed this part of your life
Belonging to a growth-development tribe that knows who you really are because you've been through this huge rite of passage together
A future opportunity to become an apprentice training to become a relationship coach
Noticed. Because other people will be like "WTF happened to him/her? She/He is so solid."
[/et_pb_fancylist]
Since starting Jayson Gaddis's Relationship School® launch this last September, I'm feeling grateful and changed. Taking the plunge into this powerful course was an important decision I'm happy I made.
With lectures and homework projects designed to spark understanding of how relationship works best, a high value of mine came into focus; the value of relationship as a path of growth. When I'm growing, I feel alive and curious. Once I realized that through connecting authentically, the more I grew, the more convinced I became that I was in the right place. Relationship as I've been exploring in this course, puts me on a potent path of growth. Continually coming up against my edges of fear and discomfort when in relationship and then very gradually learning to embrace these edges has developed for me a kind of muscle of relationship endurance all within the context of a secure place to be present in together.
The most impactful part of the course work came through the partner practices. Working consistently with the tools my partners and I had just learned in class; how to listen deeply, find the shared experience, share impact and even repair after a disagreement brought the techniques alive. Without this way of working, I could never have truly begun to embody this work and start taking the tools out into my life. I am grateful also, for the people I've been working with in the course. I feel a deep kindred warmth for them and in all our shared experiences.
The tools are making their mark as I'm embodying them with each experience in and out of practice work. I find I am more likely to speak up; with my family, my friends close and distant. And with that my relationships have become a fertile ground for growth and love. In short, this course has taught me to dare to come back into relationship, with curiosity and a sense of the possibility of connecting in a whole and fulfilled way.
My experience as a student and apprentice in the Relationship School® has been life-changing. The teachings that Jayson offers up have really expanded my knowledge. I love the live webinars and the content that he brings and the way he delivers it. Even more important to me is the strong community of other students with whom I practice the skills and who help keep me accountable. The tools that I have learned have helped me to step more into my power in my relationships. They are practical and easy to digest and integrate into my life. I feel now a greater sense of connection to myself and others than I ever have before because I have learned how to step more into my own authentic expression without sacrificing connection. I wish I had learned these skills earlier since I am experiencing such growth and expansion in my life and in my capacity as a human. I am so excited about the mission of the Relationship School® to teach people the class they never had in school. In fact, I'm excited to say that through my involvement in the school, I have changed my career path and I am now embarking on a path as a transformational life and relationship coach. Thank you Jayson Gaddis. I am truly grateful.
FREQUENTLY ASKED QUESTIONS
I'm single, will this do shit for me?
Please stop seeing you being single as a problem when learning relationship skills and badassery. Now is the time to concretize your relational arsenal so that when you enter a relationship, you are equipped to face more of you so that you can connect with her much more deeply.
What if I have to miss one or more of the live classes?
The course is recorded, so you'll be able to watch the replay. In order to meet the graduation requirements, you will need to write and turn in a one-page paper after you've watched the replay.
When this training is over, will I have access to the course materials and the people in the training?
Yes. You will have access to the course for a minimum of 1 year and likely longer. You will also walk away with access to the community via a private FB group.
When will I need to pay the remainder?
You will need to make your payment by August 10, 2018. You'll be able to pay in full, or in 9 monthly payments. We'll send out more info as that date gets closer.
Is this in person and do I need to live in Colorado?
We'll have 2 live weekends in Boulder (listed above). They are required for your graduation from the Relationship School®. The rest of the course is entirely virtual.
Can I access this training from my smart phone?
Yes. If you are like me, your phone goes with you everywhere and so you have access to this course at the tip of your fingers. Not only can you log in to the members area and listen or watch previous modules, you can call in when we have a live class and ask questions by speaking or typing into your phone or tablet.
Listen to what our recent graduates of the Relationship School® had to say!
Where and When Is The Live Weekend?
September 20th-22nd, 2018 at Marriott, 
2660 Canyon Blvd., Boulder, Color
ado 80302.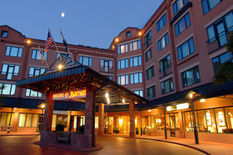 Travel + Transportation
Denver International Airport (DIA)
Denver International Airport is the closest airport, approximately 5
0 miles southeast of Boulder.
Sky Ride Bus The Sky Ride is the most budget friendly option and travels between DIA and Boulder every hour (between 3am-11pm). You can get a rider pass for $9.00 (one way) at the RTD SkyRide Sales Counter at DIA, West Terminal, Level 5 (price may change). Your stop will be "14th & Walnut – the Boulder bus terminal." From there, you may call a taxi, hotel shuttle, etc.
Shared-ride shuttles and taxis to/from DIA There are several ground transportation options available. The Ground Transportation Information Counter is located in the central area on Level 5 of Jeppesen Terminal
Car rental options to/from DIA Driving time between Denver International Airport (DIA) and Boulder is approximately 60 to 90 minutes. From DIA, follow Peña Boulevard (10 miles) south to I-70, and exit onto I-70 west. Follow I-70 west to I-270 west. I-270 merges into U.S. 36 west and takes you west into Boulder (about 23 miles).
Parking and Getting Around
Boulder Marriott  is in an urban area. You're encouraged to drive if necessary and use alternative transportation if possible for your conveniance.
Walking
Boulder is a walking-friendly town and within easy walking distance several restaurants and movie theater is close by the Marriott. 
Local Bus
The Boulder Skip Bus goes up and down Broadway, stopping at the Center every 7-15 minutes. Broadway is Boulder's main north-south artery traveling to Boulder's Pearl Street Mall, downtown area, and many hotels.
B-cycle
B-cycle is Boulder's bike sharing program which allows you to rent and return a bike from various stations around town.Unlike typical bike rental, each ride is kept short, and B-cycles are returned to their stations when not in use rather than being kept and locked up. Pick up a bike at any B-station, and return it to any station when you're done.
Lyft and Uber are both available in Boulder.
Local Taxi Service
Boulder Yellow Cab can be reached at 303-777-7777.
Lodging - September 2018
Stay at the venue! Boulder Marriott is located at 2660 Canyon Blvd., Boulder, CO 80302  and is offering a discounted rate for $219/night for the Live Weekend participants (offer ends 8/18/2018). To book at the discounted rate, click here.
Below are a few hotel options, with distances from The Marriott. For additional hotel details, please contact the hotel.
More area hotel options are available here.  Boulder University Inn 7 minute drive or bus ride, 25-30 minute walk; Holiday Inn Express 13-15 minute drive or bus ride; Hotel Boulderado 8-minute drive or bus ride, 10-15 minute walk; St. Julien Hotel and Spa 8-10 minute drive or bus ride, 25-30 minute walk. 
Airbnb.com
Airbnb is is a website allowing anyone from private residents to commercial properties to rent out their extra space. The site allows for user reviews, verification, and secure online transactions. Listings include vacation rentals, private rooms, entire apartments, bed and breakfasts and many other traditional and non-traditional accommodations.
How Do I Find Someone For Ride or Room Share?
Checkout out the Facebook Group. Shared rides, lodging, or meet-ups, can be planned there with fellow community members.
What Is The Format and Agenda?
Jayson will combine teaching with breakout sessions where you will be able to practice and integrate the tools. There will be time allotted for asking questions. Additional details will be emailed to you before the event.
Are Food or Meals Included?
There will be a variety of herbal tea and hot water available all day. You are welcome to bring water bottles and snacks into the meeting space. There will be breaks throughout the day as well as an extended break for lunch. There are many restaurants and some grocery stores within walking distance of the Marriott.
Other Questions?
[gravityform id="1″ title="false" description="false" tabindex="33″]
Legal Terms and Conditions
The Relationship School®
Deep Psychology Of Intimate Relationships Agreement
The Deep Psychology Of Intimate Relationships (DPIR) Agreement ("Agreement") between the undersigned participant ("I" or "me") and The Relationship School® LLC, a Colorado limited liability company with a principal place of business at 4404 Wellington Road, Boulder, CO 80301 ("TRS") sets forth (i) the terms and conditions for my participation in the DPIR Training Program (the "Program"); and (ii) the terms and conditions that will govern my rights and obligations upon successful completion of the Program.   
The Relationship School® is an instructional course developed by Jayson Gaddis for improving and mastering skills and knowledge necessary to achieve and maintain successful relationships. "Relationship Students" are individuals who have undergone a 9 month training program at The Relationship School®. I understand that, by signing this Agreement, I am entering into a binding agreement that governs my participation in the Program and my use of Program materials.
Program

. The Program consists of approximately 36 course sessions over a nine-month period.  In the event of scheduling conflicts, individual Program training dates and/or times may be rescheduled in the discretion of TRS. Program curriculum may also change at any given moment. No refunds shall be provided for changes, withdrawals or missed training dates.

My Rights as a DPIR Relationship student

.  If and when I successfully complete the Program, I may refer to myself as a "Relationship School® Graduate."  I may not, however, mentor, coach, or conduct trainings or otherwise use the "The Relationship School

®

" name and logos (the "

Relationship School Trademarks

") to provide coaching or other professional training services. I understand that, if I desire to provide professional services utilizing the Relationship School Trademarks, I must successfully complete a separate Coach Certification Training program through TRS.   I will not use Relationship School Trademarks in the name of my business, offer or sell any products under any of Relationship School Trademarks, or attempt to register any trademarks, service marks or internet domain names containing or confusingly similar to any Relationship School Trademarks.  Any use of Relationship School Trademarks or any other proprietary information or materials of TRS other than as expressly permitted in this Agreement shall be an infringement of TRS's trademark and other proprietary rights and a breach of this Agreement.  I will avoid deceptive, misleading, or unethical practices in connection with the Relationship School Trademarks that are, or might be, detrimental to TRS, its business or the public

Intellectual Property

.  I acknowledge and agree that all instructions and materials provided to me during the Program, including, without limitation, written or printed documents, photographs, audio and video recordings, and software programs, and all copies and derivative works relating thereto, are the sole and exclusive property of TRS (the "

Relationship School Materials

"), including without limitation all copyrights therein.  I will not copy, reprint, display, publish or distribute copies of these materials without the express written consent of TRS (including, without limitation, over the internet).  Any use of the Relationship School Materials other than in accordance with this paragraph may result in liability for infringement of TRS's rights in such materials.

Waiver and Release.

I understand that my participation in the Program involves certain inherent risks, including without limitation discomfort related to the content of the Program and injury or damage resulting from interactions with others at the Program.  I freely accept and fully assume all costs, risks, dangers and hazards and the possibility of personal injury, death, property damage, expense and other loss, delay or inconvenience resulting from my participation in the Program or my presence on the premises where the Program is presented.  I understand that TRS and its personnel are not responsible for the acts or omissions of other individuals or entities participating in or otherwise involved in the Program and I hereby release, discharge and hold harmless TRS, its employees, officers, managers, directors, members, contractors and agents (the "

Released Parties

") from any and all claims, causes of action, damages, losses, liabilities and demands (collectively, "

Claims

") arising out of or resulting from or related in any way to the Program, whether caused by the negligence of the Released Parties or otherwise, and promise not to sue or assert against the Released Parties any Claims arising out of or resulting from or related in any way to the Program.

I further understand that TRS or third parties may film, record, photograph or otherwise memorialize the Program or elements thereof for promotional, documentary or other purposes (collectively,

"Recordings

"), and I hereby consent to be filmed, recorded, photographed, or to otherwise have my appearance and participation in the Program recorded and such Recordings used by TRS in its discretion.  I understand that I will not be entitled to any payment or right to review or approve any use of such Recordings and that TRS or its assigns shall be the sole owner of all such Recordings and their contents.  
Indemnification.  I understand that my use of my Relationship Student status is my responsibility and that TRS does not conduct any ongoing oversight or instruction, or otherwise have any relationship or liability in connection with my personal or professional activities.  I will, at my own expense, defend, indemnify, and hold harmless TRS and its owners, directors, officers, employees, agents and representatives from and against any and all liabilities, claims, causes of action, suits, damages, including without limitation, suits for personal injury or death of third parties, and expenses, including reasonable attorney fees and expenses, for which TRS becomes liable or may incur or be compelled to pay arising from my actions or omissions or my breach of this Agreement.
No Franchise or Agency.  I am not, and will not hold myself out to be, a franchisee, employee, subcontractor, representative, affiliate or agent of TRS except as otherwise agreed upon in writing by TRS.  I agree that this Agreement contemplates a limited license of trademark, copyright and other proprietary rights only and does not establish a franchise, joint venture, agency, partnership or employer-employee relationship between the parties. I acknowledge and agree that my personal and professional activities are my own responsibility and TRS does not provide operating assistance of any kind in connection with any such activities.
No Assignment.  Any rights granted to me under this Agreement are strictly personal and may not be transferred or assigned.
Warranty Disclaimers.  I acknowledge and agree that TRS shall have no liability to me as a result of or arising out of the Program, the Relationship School Materials, this Agreement, or any other materials or services provided to me by TRS.  TRS hereby disclaims any representations or warranties whatsoever regarding this Agreement and the products, services, or transactions contemplated herein, including (without limitation), any implied warranties of merchantability, fitness for a particular purpose or non-infringement or implied warranties arising out of course of dealing, course of performance, or usage of trade.
Notices.  All payments and notices required by this Agreement shall be deemed received upon personal hand delivery; seventy-two (72) hours after depositing such payment or notice in the US mail with proper postage addressed to the proper party at the address provided herein; or twenty-four (24) hours after depositing such payment or notice with a recognized overnight carrier for overnight delivery to the proper party at the address provided herein.  Payments and notices shall be addressed to TRS at the address first set forth above, or to me at the address set forth below my signature at the bottom of this Agreement, or such other address as either party may provide to the other in writing pursuant to this Section 9.
Miscellaneous Provisions.  This Agreement shall be governed by and construed in accordance with the laws of Colorado, including all matters of construction, validity and performance. The parties agree that any action or proceeding commenced under or with respect to this Agreement shall be brought only in the county or district courts of Boulder County, Colorado, and the parties irrevocably consent to the jurisdiction of such courts and waive any right to alter or change venue, including by removal.  This Agreement constitutes the entire agreement between the parties hereto concerning the matters covered herein and supersedes all prior agreements and/or understandings, between the parties, whether written or oral, concerning the matters addressed herein; and there are no understandings, agreements, representations or warrants, express or implied, which are not specified in writing and signed by the parties hereto. In the event that any of the terms of this Agreement are or become illegal or unenforceable, such terms shall be null and void and shall be deemed deleted from this Agreement, and all the remaining terms of this Agreement shall remain in full force and effect. Except as otherwise expressly provided herein, the parties may amend this Agreement, from time to time, in writing signed by duly authorized officers of the parties. No waiver of any provision of this Agreement, nor consent to any departure by either party therefrom, shall in any event be effective unless the same shall be in writing and signed by a duly authorized officer of the party to be charged with the waiver or consent, and then such waiver or consent shall be effective only in the specific instance and for the specific purpose for which given.  In the event either party institutes any legal action to enforce or construe any provision of this Agreement (including in any arbitration or mediation), the non-prevailing party shall pay to the prevailing party the reasonable costs and expenses (including legal fees) incurred by such prevailing party in connection therewith
The Relationship School, LLC: Participant:
Signature:
Jayson Gaddis, President
Name:
Address:
Email:
Email: