Present Centered Relationship Coaching was synthesized by me in 2019 after training coaches in my methodology and practicing working with clients since 2005. 
Taking from my extensive training in Gestalt Therapy and Vajrayana Buddhism, our coaching model utilizes the "here and now" as a key driver in change and transformation in the client. When we help get our clients "present" and in this very moment (something most people rarely experience in their relationships), tremendous growth, healing, and forward movement occur. 
We help the client see, through "here-and-now" experiments, what's possible in intimate relationships. Many clients have never experienced a real, present-centered connection with another person. 
For most of our clients, it's the first time they've had someone really get them, pay attention to them, and share the impact of what it's like to be with them. 
Each moment we are present with our clients is like a new pathway, and new neurons around connection are built. 
One of our primary aims with our clients is to help them "be with" their inner experience. In our fast-paced culture, this is new and can be confronting for many people. It's my belief that by learning how to be with your inner life, you'll have more choice available to you in your outer life and specifically in your relationships. 
By learning how to "be with" their inner experience, a client has more choice available and can move out of blame and into a position of personal responsibility, another primary aim of our coaching model. 
By taking personal responsibility, we help clients move out of a victim position and into a more empowered position I call the author position. As clients get more empowered, the relationships improve. They may leave an unhealthy relationship or deepen and improve a current family relationship or partnership. 
Our coaches are always working their own material of their inner life as well—because in my experience, coaches who are actively involved in their own growth and development are the most helpful coaches out there.
Where does our model come from?
Early on as a psychotherapist, I was training in a very humanistic and transpersonal model of psychotherapy that relied heavily on Eastern spiritual traditions, mainly Buddhism, as well as Gestalt Therapy. I studied at Naropa University and received a master's degree in Transpersonal Psychology & Counseling (where I met my now-wife!).
I went on to study Gestalt Therapy for three years and became a certified Gestalt Therapist. Gestalt relies heavily on the here and now as a vehicle for transformation. I also became a client under several very skilled Gestalt psychotherapists for many years and received supervision from master Gestalt Therapists. Its founder Fritz Pearls believed that when people take personal responsibility, change can occur, especially when anchored in the here-and-now experience of the client. 
At the same time, I was working as a crisis worker for the Boulder Mental Health Center for three years and the Longmont Mental Health Center for one year. It felt important for me to gain serious clinical work in the mental health trenches.There, I learned solution-focused therapy, motivational interviewing, strengths-based planning, and how to diagnose someone with a major mental illness. I would soon see the serious limitations of mental health centers in helping people heal and work through their pain, and also the limitations of treating mental illness. I saw trauma everywhere and knew I needed to learn and study more about trauma.
While I was studying Gestalt, I was also studying Vajrayana Buddhism intensely. I would sit for two hours per day and study under an amazing teacher named Reggie Ray. Reggie was the first person who taught me to really "be with" my experience, which allowed me to help my clients be with theirs. The Buddhist teachings were also about coming back "home" to ourselves, which is not typically a part of any coaching I know about. Buddhism helped me see that when we "resist" our inner emotions and experience, we create more suffering for ourselves and that it's the seeking of pleasure and avoiding of pain that adds to our suffering pile as well. I became a certified meditation instructor and began to teach my clients how to meditate and be with their inner life. 
I dabbled in the circling communities in Boulder and San Francisco and learned a few great principles from Bryan Baer, Decker Cunov, and Guy Singstock. 
I started to notice that most of my clients' issues boiled down to relationship problems, early childhood challenges, and trauma. I wanted to understand trauma better, so I became a certified EMDR therapist, a certified trauma therapist with the Sensorimotor Psychotherapy Institute studying under Pat Ogden. Since that time, I have interviewed the best in the world on the subject.
I began to see the intersection between mental illness, trauma, and adverse childhood conditions. It became clear that our earliest relationship experiences impacted us later in life. While I learned some of this in grad school, it was a whole different thing to see it firsthand every day in my clinical practice. 
I also began to experiment with psychedelics to gain access to my own repressed memories and trauma. This helped me peel back even more layers of my own psyche and work through more of my own traumas and pain. I learned the benefits and drawbacks of this approach and how important high-quality facilitation and integration are when using this modality.
For many years, I worked with trauma and relationships, helping individuals, couples, and groups before making the transition to coaching. I had a big journey to make around getting stuck working with clients who were entrenched in their victimhood. I began to let go of clients who didn't want to do the work (hence motivational interviewing). About that same time, I found Dr. John Demartini and began to study The Demartini Method® and his values work and became a Demartini Facilitator. My work with John completely upgraded and transformed the way I work with people and heavily influenced PCRC. 
I brought the best of my psychotherapy and psychology training to coaching—mainly the here and now and helping people be authentically themselves through the path of relationships. 
Of course, meanwhile, I became a husband and entered into my first solid adult relationship. We had kids and the combination of my marriage to my wife, Ellen, and raising two children gave me an even deeper understanding of my own work with clients and how to help people. 
Spending thousands of hours in deep family and with clients helped me see one of the core patterns of the human condition that I call the core human split. We split off from who we really are (true self) in exchange for who or what others want us to be—or what we think they want us to be (strategic self). The gap between who we actually are versus who others want us to be,  creates a lot of suffering in people. 
This split is caused in relationships and must also heal in relationships. It's through a primary partnership and other high-stake relationships that a person comes up against their strategies versus their truth. We are forced out in the open where the true self-expression is exposed and dealt with. Primarily, this happens during conflict and interpersonal stress. 
Along the way, I began to study attachment science, interpersonal neurobiology, and human behavior from some of the best in the world, including Dr. Dan Siegel Rick Hanson, and Dr. Stan Tatkin, and their work has had a big influence on my approach to coaching and healing. Having interviewed the best in the world around relationships, I've only strengthened the modality of Present Centered Relationship Coaching. 
My main question is always, "How can I help this person most effectively?"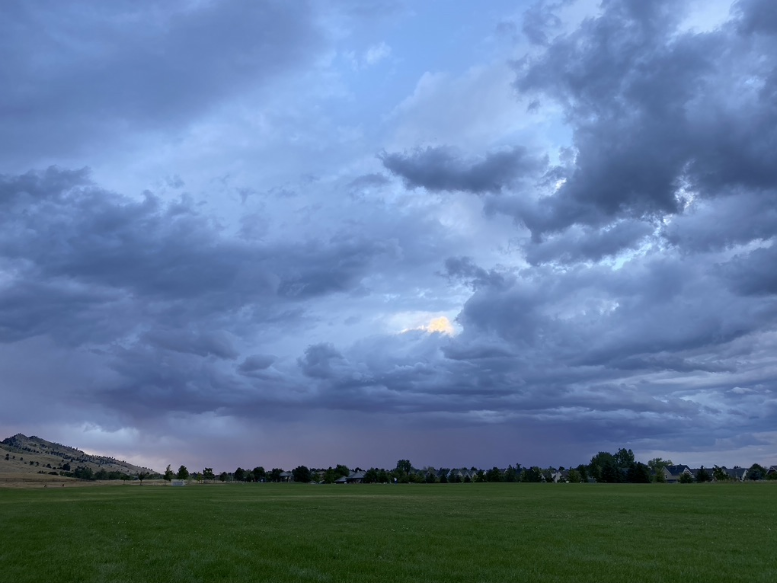 Here at The Relationship School, through Present Centered Relationship Coaching, we teach people to come back home to themselves, to who they really are. Too many people are living according to someone else's values or ideas about who they "should" be. When a person can come home to themselves and learn how to communicate, how to listen, and how to do conflict with their fellow humans, they are more likely to be fulfilled in their life. 
True change happens in the now.
Here's how our coaching model is shaping up today after all these years.
Present Centered Coaching Model Overview
Present-Centered Relationship Coaching (PCRC®) is a coaching approach and technique that helps people integrate and be more true to themselves in the context of intimate relationships in the here and now. 
As a coach our job is to help a person take responsibility for their relational life and become a relational leader. We help them evolve and develop their psychology, their story, their commitment, and their interpersonal skills. 
In Present-Centered Relationship Coaching, we upgrade their view and map of how relationships work by showing them and telling them how to do relationship differently. Showing includes here and now exercises, role plays etc. Telling them includes giving them context and content. Showing and telling involve teaching and coaching.
The foundation of our coaching program is housed within the Principles of PCRC and the Interpersonal Intelligence Map (Relationship Mastery curriculum etc). If you just coach someone relying on your personal experience you'll end up FRACKING and projecting a lot. Clients don't need this. They need a solid relationship map to move from their current situation to a more empowered position.
Present Centered Relationship Coaching Diagram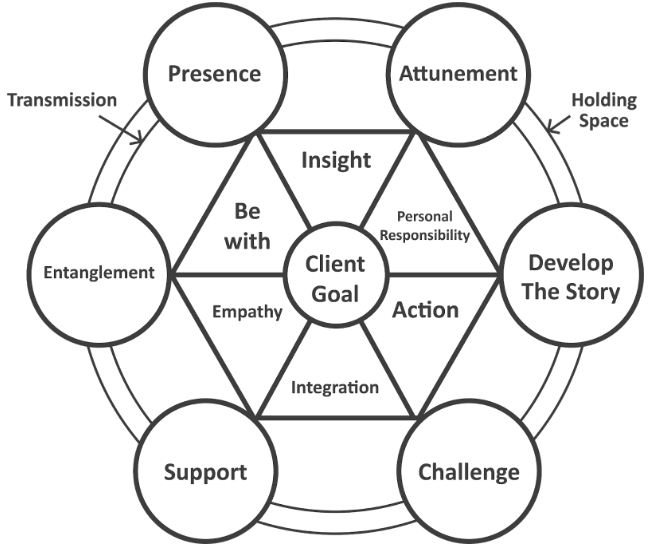 The outermost circle represents the container of the coach/client relationship. The next circle represents the transmission from you to the client about how to do relationships well. The six outer circles represent the things you need to practice to help the client reach the six outcomes in the hexagon, which then help the client reach their goal. 
Our coaches use this coaching model as our blueprint or framework for coaching people. Everything we do with our clients comes back to this model. Our coaches evaluate themselves and their progress using this model and our mentors will also use this to evaluate coaches in our training program. These are the areas our coaches are evaluated in:
Principles

Administrative

Container building and holding

Transmission

6 coaching practices

6 client outcomes

Client goal
Within each of these big picture areas, there are many subcategories, distinctions, concepts and skills that you will work on over time to improve your effectiveness as a coach. For some coaches some areas will be intuitively easy and straightforward to learn, while other areas might prove more challenging. We encourage our coaches to take a student mindset for the rest of their coaching career and keep learning, adapting, and improving over time. 
The course leader and mentors in training evaluate our coaches on the seven areas above of PCRC. We use the subcategories (not shown here) within each to teach and guide you into becoming more confident and effective. 
As you can see, our model is robust and anchored in old and new modalities, built over many years of working with thousands of people. I continue to refine and tweak this model year after year. PCRC also is the foundation of PCCC (Present Centered Couples Coaching) that my wife and I created and is specifically geared to working with couples and is taught in our Couples Coaching Training Program (CCT). 
I believe Present Centered Relationship Coaching to be one of the most effective relationship coaching modalities out there for people wanting to grow and evolve their relationship life.